Posts Tagged 'eric'
One of my goals for the 101 in 1001 Project is to complete the 365 Project – to snap one photo a day for 365 days. I'd started this last year and did very well, but fell off track when Eric took the camera to Burning Man in August.
Here we are. Starting again.
Yes, I plan to post these 365 updates on Saturdays, but I'll be honest. Yesterday was difficult for me.  It would have been my dad's 85th birthday.  I really just wanted to sit around and snuggle my kids.
But, we're back at it and I have some photos from this past week to show you.
WEEK 4, YEAR 1
---
Last Saturday, Ravynn decided to start a 3,000 piece puzzle.  She made quick work of most of the border, but then decided she didn't like sitting on the floor to work on it, so she boxed it back up. After spending a couple of days rubbing her sore back, I thought this was a great idea. 
---
After feeling really proud of myself for going to bed early, I was slightly annoyed with Eric when he woke me up to see this "really cool thing" in the living room.  I got over that immediately when I saw this incredible dragonfly on the ceiling fan.  I wish the camera had captured how gold it was. 
---
Sweet snuggle bug waiting patiently for her turn on the computer.  She got a little sun.
---
Yes… those raspberry bushes that I planted in the fall and keep stressing over [we need more rain!!] finally produced fruit.  Two little berries.  I let the girls have them.  I understand they needed sugar.
---
Ravynn completed her Flat Person and wanted a photo of the two of them together.  After watching the first two seasons of Vampire Diaries, she was understandably upset when I referred to her creation as a doppelganger. 
---
Whisper go a foot tattoo to remind her while I was at work that I love her CRAZY BIG.
---
THIS is what happens when I let Alek make his own lunch… spaghetti salad. I don't even know what to say about it…
That advice is easier to give than it is to receive.
Ask any kid – being different is not an awesome experience. 
Ask any enlightented adult – it should be. 
It often takes the distance created by age and maturity to honestly appreciate it.  Every person has at least one distinct feature [physical or otherwise] that makes them different and until they learn to embrase these features, they're often the things that embarass us.
As a child, I was a shortie.  Who am I kidding?  I'm still a munchkin, barely reaching 4'11".  Inside my family, this is not odd; out in the world, it is.  I've never been athletic – prefering to sit inside and read than to head out on a bike or even playing in the yard. My mother used to have to force me outside. 🙂  I also didn't blend with my schoolmates.  I went to a small private school [on scholarship, I will note] and we didn't have the available extra cash for ski trips or the 'right' clothes and shoes.  I didn't have the newest electronics.
Lucky for me, I developed an "I don't care what anyone else thinks about me;  What I think about me is the important thing" attitude. This did not impress my parents or my teacher or many other adults, really.  If they could see ahead to the current issues with bullying, their tune may have been different.
My own kids, despite Eric's and my strong encouragement to be their own people and not cater to the boundaries imposed by society [you can't do that, you're … a boy… a girl… too young … too old… too short… etc.], have all felt the pressure of being different.  Jordan danced until he was 13.  Alek, at 14, is still in classes and intends to make a career of it.  Both boys, though, felt the sting of unkind comments from other boys in school.  At a couple points it required teacher intervention [and we're thankful for adults who educate about both the art and the athleticism of dance].  They did make it through.  Ravynn has been picked on for being small and short – but she's a full year younger than many kids in her class, so of course she's small and short.  Whisper wore glasses.  Jordan wore glasses.  Ravynn had a medical condition and has a scar on her face…  So many opportunities to be "different."
I'm pleased with how the kids deal with being their own person.  We've tried to help.  Of course, some issues are more difficult than others and we do shelter through the tears.
I encourage you to shelter and guide anyone who resists being different.  Any road is easier to travel with a friend at your side.
I had such a hard time writing that last post that I've gotten incredibly behind the schedule that I made to keep myself on track.  Here is a valiant attempt to get back on track.
I've made a goal to complete the 365 project.  Basically the goal is to take one photograph each day for 365 days.  I'm having fun so far, but worry, as always, that my life is boring and that no one will care.  I started on a Sunday and am supposed to [ahem] post weekly on Sunday, so I present to you photos 1-6 of 365.
WEEK 1 YEAR 1
---
On Sunday – Mother's Day Sunday, the final performance of Highland Junior High School's "Willy Wonka Jr" ran. Alek was the Candy Man.  He was a true highlight of the show.  His love for performing and his absolutely capturing stage presense really created a remarkable and memorable character.
---
Ravynn worked really hard on her "Making a Mummy" interest fair project for Northside Middle School.  This is a little peek at the mummies on day 40 – just before they were unearthed to create her display.
---
 One of my favorite co-workers always comments that she would starve in my house because she "doesn't eat weird food".  I thought of her when I snapped this picture. Purple cauliflower, yellow carrots, and plain old boring broccoli 🙂
---
 When Ravynn completed her Mummy project, she was incredibly proud and felt very special that her dad let her take one of his original paintings to complete her display. 
---
 This month for the first time,  I participated in the Foodie Pen Pal program.  On Thursday, my first package arrived in the mail.  It was a very exciting experience for all of us. 
---
 Friday was rehearsal for our annual dance recital.  I love my little bunheads 🙂
I married an actor.  I've spent time on stage, but out of no great desire to perform.  I mostly stepped in when a friend needed help.  My kids have all had stage time in ballet performances.  Ravynn and Whipser especially have taken to acting. We've been very fortunate with the opportunities they've had to be on camera.
Early this spring, I had the unique experience of joining Whisper on a shoot.  I've been on set with her, but only when were were both working as extras [Beverly Lane, Lightning in a Bottle].  This was my first opportunity, despite her growing resume of roles, to be "stage mom" and to just enjoy the experience of watching her act.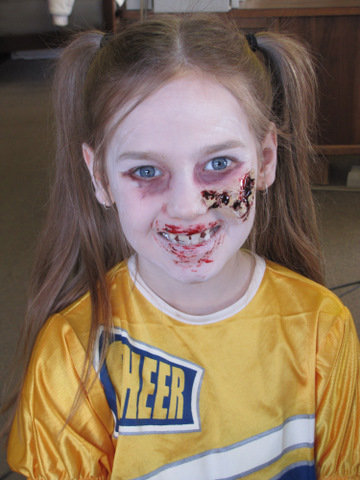 Her first role was as an extra, the Cheerleader Zombie, in the film Beverly Lane from Arsonist Productions.  She enjoyed wearing the zombie makeup and especially enjoyed her scene with her dad, Level-Nine Zombie Killer, Rick Ashley. She was patient and upbeat on set and has nothing but praise for the experience.  It didn't hurt that someone referred to her as a movie star.  🙂  It was also really nice to enjoy the experience with most of the rest of the family.  Eric played a zombie killer while Whisper, Ravynn, Alek, and I were zombies. 
This film definitely infected her with the acting bug.  You don't see her in the trailer, but that's her dad in the spiked helmet 🙂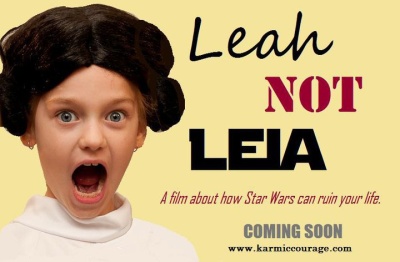 During the filming of Beverly Lane, Whisper and Eric were able to work closely with Ms. Kate Chaplin of Karmic Courage Productions who was working on a short film and needed a little girl. On their website, Kate describes the movie as, "A dark comedy about a baby girl born during the STAR WARS boom in 1977 who shares a similar name to a certain Jedi Princess that wasn't allowed to wear underwear."  Eric was in this film as well.  Jordan and Ravynn worked as extras. 
You can see her in this trailer [right around 45 seconds, but you should watch the whole thing].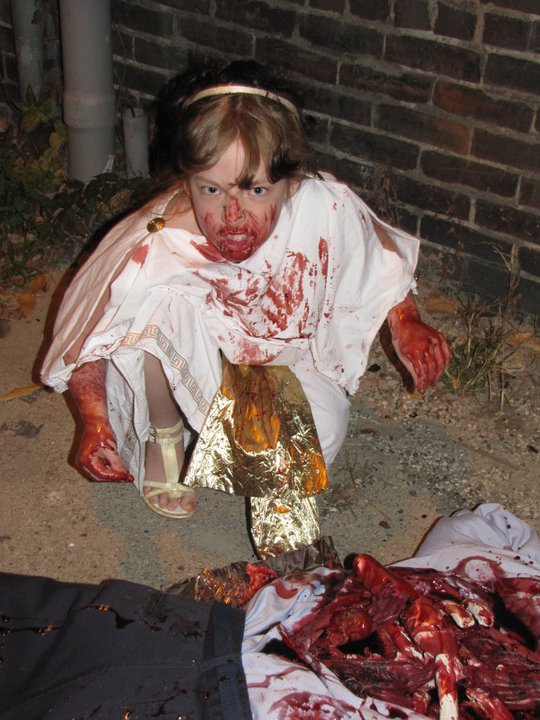 Not long after that project, Eric took on a lead role in the movie Lightning in a Bottle.  When they needed some extras for a ghost scene , Whisper and I stepped in.  Ravynn plays a maenad and Alek worked as a PA.  You can spot Ravynn and Eric in this trailer.
Ravynn had a lot of fun and left us all wishing that we could be maenads – despite their nasty lunchtime preferences.
Not long ago, we were honored to attend the premier of this movie at the Paramount Theatre here in Anderson.  I was incredibly impressed with this film.  I've seen a lot of independant film and this ranks near the top in quality.  Treat yourself to a copy of the DVD.
Her most recent project was filming a music video for the artist Thomasina's song "Muddle in the Mud".  She played the singer as a young girl. Yes, she's in prison, but as the director explained to her, it's a symbolic prison built by expectations society might have on you and how you don't quite 'measure up'. 
I was amazed by her professional attitude and her ability to be 'on' when needed. Off camera, she was sweet and charming and made friends with everyone.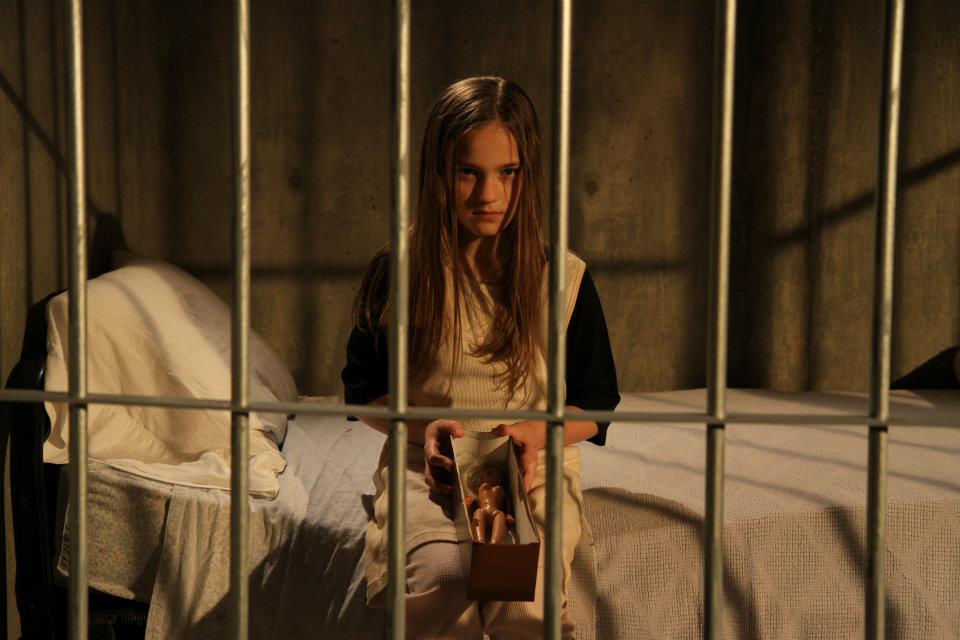 Thank you all for making 'on screen' a good experience after the trauma of Wife Swap.  I'll share more of that experience later.

Our family isn't typical…
My boys dance.  Eric guest performs. Jordan studied for 7 years. Alek still does. Most recently, he appeared as Harlequin in our local production of the Nutcracker.  He's very talented and we're very proud of him. They began dancing when they were 4 and have worked hard at one of the best studios in the Midwest.  When Ravynn turned 4, the boys came to me concerned. She wanted to take ballet, too, but they worried that it was only for boys [never mind that their classes had always been full of girls].  They were incredibly pleased when we bought a tiny pair of pink ballet shoes.  It wasn't until a minor incident in 4th grade when they felt the bullying effects of being different.  A very kind teacher explained what exactly was the problem with the phrase 'ballerina boy' and it mostly ended. There are still comments flung around, but Alek who's 12 and in 7th grade is strong and ignores them. 
Our family is goth.  Locally, we're semi-famous for it, but you may have noticed from other comments or photos or even the About page associated with this blog.  Eric and I embrace being different, but each of the kids have at points heard rumors or fielded snotty comments based on how we look or dress.  It's a great opportunity to talk to them about stereotypes and prejudice and about not having to conform to make other people happy.  For the most part they get it, but I understand [having been a 10 year old girl once upon a time] that there is still a sting involved.  I hate that.  At the same time they love when their friends think we're cool because of the way we dress or the music we listen to.  I kinda like being famous at the elementary school, but not to the detriment of my kids.
When I read news stories about bullied kids or hear about it from fellow moms, my heart aches.  No child should have an unhappy childhood.  I mean there are some situations that cannot be avoided and the pain of them cannot be minimized, but… if the pain is caused by other kids or adults being hateful and unaccepting.  Well, the simple fact is that should be easy to change.
Several weeks ago, a Facebook post brought my attention to the blog, Portrait of an Adoption. Young Katie was being teased for wanting to carry a Star Wars water bottle to school.  Three cheers for social networking.  Geek Girls came out in force to support Katie. As I understand, Geeks, Nerds, and Dorks all came out to support her and give her strength.  I think this is awesome!  It's what I've tried to teach my own kids.  Differences should be Celebrated. Sometimes they are, as with Katie's situation.
Checking on Portrait of an Adoption, I read the story of author Cheryl Kilodavis and her book My Princess Boy. Her website explains it as:
My Princess Boy is a nonfiction picture book about acceptance. It tells the tale of a 4-year-old boy who happily expresses his authentic self by enjoying "traditional girl" things like jewelry, sparkles or anything pink. It is designed to start and continue a dialogue about unconditional friendship and teaches children — and adults — how to accept and support children for who they are and how they wish to look.
The response she is getting isn't near as positive as Katie's mother found for her.  Now, it isn't all negative and maybe I"m experiencing emotional reactions to the negative comments that I do see.  I've been in the same place. People have, over the years, explained to me that it's not 'normal' for boys to study dance or to have long hair [Eric does and Alek did until he cut and donated it in the summer of 2009]; I've been told that it's not normal for them to do these things because society believes them to be 'for girls'.  Somehow along the line it became acceptable for girls to want to do 'boy things', yet not for boys to want to do 'girl things'.  I suggest we let kids do kid things and leave it at that.
I've fought the good fight for my kids. Cheryl is fighting for hers.
I encourage you to honor acceptance for everyone and embrace diversity in your own life today.

And I have a couple rainy days in my future – at least that's what the weather man tells me.  So while Alek was at dance and Jordan was at a Teen Advisory Board meeting, I scoured the library for interesting books.  I found four with varying levels of promise.  All about the goth community.  I hope to spend some time reading over the next few days and promise to share my thoughts and ideas with you all.
Circumstances in my life indicate I'll be spending a lot of time in the near future explaining exactly what it does and does not mean to be goth.  I want to know what folks are saying 🙂
For now, enjoy the rainbows 🙂  We ran into these on the drive to the grocery after the Egg Hunt on Saturday.  Luckily Eric was driving and I could aim the camera out  the window!
~ sheila

In our house Good Friday = Egg Day.  Boiling, cooling, coloring, fighting off the boys who wish to snack on them.  Usually, we don't make many – just enough to make sure the kids get a turn. This year, though, everyone wants to EAT the eggs, so we made extra.  Two dozen.  Wasn't it lucky that a good friend [with a surplus of chickens] brought over four dozen eggs when she came to visit last weekend.
We'd never worked with brown eggs before, so we were unsure what dropping them in dye would do. To be safe, we added the suggested 2T of vinegar to keep the colors vibrant.  And let them soak extra long.
It worked 🙂
Now, we want to eat them, but the rules clearly state, we cannot until Easter.
Tonight, Eric and I are heading down to Indianapolis to do a little PR, but we're staying home long enough to watch the season premiere of Wife Swap.  Maybe I can get a nap first.
~ sheila

I've been away from posting for awhile [and feeling incredibly guilty about that].  Spring is always a very busy time for our family and leaves little time for extras.  These past few weeks, though, Eric has been working on a movie with a local director.  When a call went out for zombie extras, the rest of us couldn't wait to be involved.
In Beverly Lane, Eric plays a redneck zombie killer who shows up to help a small office full of people deal with the Zombie Apocalypse.
Goofing off between scenes.
Alek and I were labeled as Featured Zombies and spent an extra few days on the set causing mayhem. Oh, and goofing off between scenes.
We're coming to get your braiiiiiiiiiiiiiins!
The movie was also covered in the local paper this morning. The article "Zombies Take Over Local Scrap Yard," features photos of Eric and of Ravynn and Whisper.  Sadly, I can't figure out how to copy them out from the website [because they want us to buy them]…
Now that filming is done, I'm back to website re-creation.  Writing product description copy makes my head hurt.  More on that later 🙂
~sheila

Purplume, one of our regular commenters, has nominated us for the Happy 101 Blog Award 😉  I encourage you to go and check out her blog – I love reading it and would have nominated her, but… it can't work that way.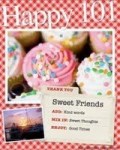 Cool, no? Good friends give on to others. They share the love and wealth and cupcakes. And so, the rules for this privilege are to:
Copy and display the award on one's blog.
List who gave me the award and link to their blog.
List 10 things that make me happy.
Pass the award on to other bloggers and visit their blog to let them know.
Let's see, things that make me happy:
Eric, my love and partner in crime.  We've been together forever, but those hugs still fix what ails me.
The monsters [Jordan, Alek, Ravynn, & Whisper] and the music of their laughter.
Mail with stamps – cards, letters, invitations, postcards.
Crashing through a roadblock in my genealogy research or finding new-to-me old family photos.
Finishing a new product design and pattern and showing it off 🙂
Moose tracks ice cream on an almost hot summer day.
Exploring old cemeteries.
Snuggling under the blankets ALL DAY on a Saturday and watching movies I've already seen 100 times.
Knowing that, if only for a few minutes, all of the laundry in the house is clean, folded and put away.
Being able to drive with the windows open for the first time each spring.
And for the blogs, I nominate and recommend: