Archive for the 'Current Events' Category
I go through phases with the Oscars.  Either I watch every moment from the very first mention of the red carpet hours before the actual event or I read about the awards the next morning over my coffee.  Typically my interest level is directly related to how much I love the movies up for awards. This year… I don't believe I've seen more than a handful of the movies and have little interest in watching many of the others.  My family is, quite honestly, disgusted with my apathy toward Argo, Les Mis, and Life of Pi…  They are likewise disturbed by my great need to own Lincoln and Django without seeing more than a brief preview.
I found a great pleasure this year in watching the red carpet with Ravynn and Whisper and choosing our favorite dresses.  Here are our top 5 favorites.  In order, no less…
#5.  Amy Adams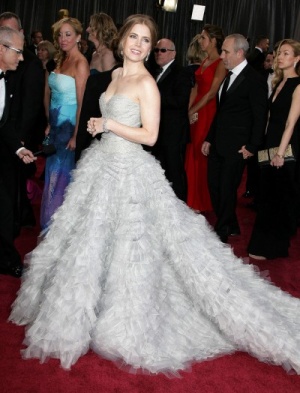 #4. Charlize Theron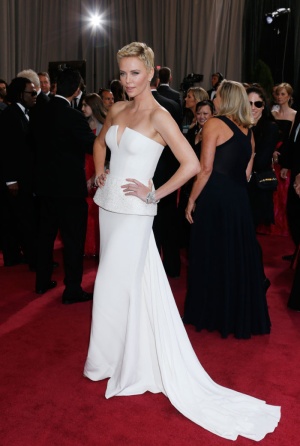 #3. Reese Witherspoon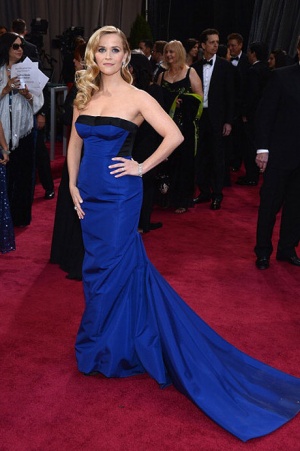 #2. Stacy Keibler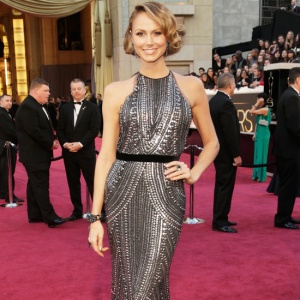 #1. Kristin Chenoweth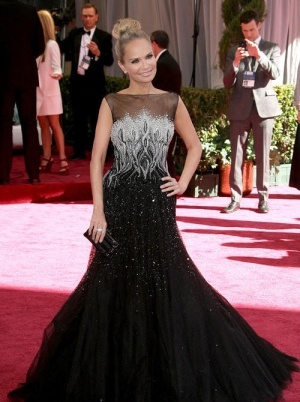 No, I wouldn't WEAR all of them, but they are beautiful.
"What's your favorite holiday?"  is a shockingly common question. My answer is not shockingly common.  Of course, the expected answer is Halloween. It seems Christmas or Mother's Day would be equally acceptable.
But wrong.
My favorite holiday is Groundhog's Day.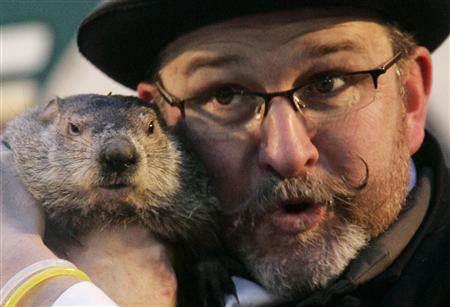 I know. It's weird.  I'm okay with that.
I've never really put much thought into the appeal of that little brown guy who predicts the weather. I grew up in Northwestern Pennsylvania. Punxsutawney Phil was practically a local custom.  I understand that not everyone who grew up in my area feels that same connection or even cares, but I always did.  When I moved to Indiana at 17 for college, he kept me tied to home. That one day of the year when everyone tunes into "home" is refreshing.
Years later, I watch live coverage with my kids. I care less about the outcome than that I see it. I realize now the appeal is so much more than home. It's about upholding a tradition much older than the town that breathes life into it.  Upholding a tradition that most of the people who witness it don't understand.
Wanting to better understand the neo-Pagan traditions that we incorporate into our family celebrations, I did some research as we prepared for Imbolc.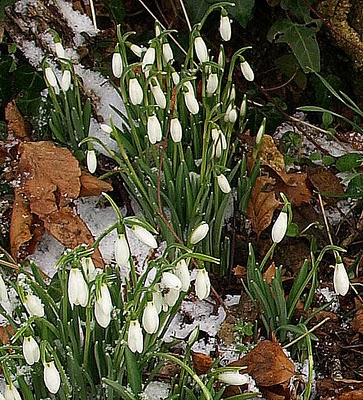 Imbolc [and I don't suggest a full understanding] means "in the belly." Some resources claim this represents the belly of the ewe as lactating sheep are considered one of the first signs of coming sprint. Other sources – and this is the theory I prefer personally – mention the stirrings of life within the belly of the earth, before anyone can see evidence of it on the surface.
I'm a mother. Through four pregnancies, I had varying amounts of time when my condition was secret and was known only to me – as the signs of spring are known only to the earth.  Those were precious times and they stir in me a kinship with the Earth as she awakens after the cold dark winter.  I love the celebration of this time.
Similar to present customs, ancient Celts looked at the weather on February 2 to predict weather leading up to the official start of spring.  Good weather [bright sun which would cast shadows on the and "scare" wee creatures back into hiding] was considered a bad omen. Bad weather on February 2 noted an early spring.  As a child I never could get the rules straight. As an adult, I find myself explaining them a lot.
When we tune in to the morning news to find Phil's weather prediction, we join with generations who watched hedgehogs, foxes, and snakes in ancient Ireland.
The joy that brings me touches my soul.
If you know us, have seen our Wife Swap episode, or have seen any of our Facebook pages, you know that dance [and the arts in general] play a huge role in our lives. All of the kids have studied ballet; most of them added tap; the boys studied modern and jazz. Jordan dropped classes when he turned 13, but was happy to rejoin the cast of the Nutcracker this past year as my partner, "Party Dad – Family One." Alek, though, has really taken an interest and I'm excited about the opportunities that are opening up for him.
Last spring, he spent a week in Pittsburgh with Regional Dance America and had a great time. While he's been fortunate to study with great teachers, his exposure to other dancers [outside of his company] is limited.  Pittsburh brought new teachers and classes with other male dancers – something I think he can greatly benefit from.
This year, an opportunity for a week-long trip to Montreal, Canada was presented.  Also with RDA, this was a national festival unlike the regional festival in Pittsburgh.  He had a lot of new experiences with this trip: rerouted planes, lost luggage, foreign currency and exchange rates, and choices between tours of the city and a men's class with a well-respected teacher from France.  He chose the class; I would have chosen the tour, but my absolute love for Montreal is not undocumented.
Dance has given us incredible opportunities.  It may not be for everyone, but I encourage you to find some artistic endeavor to include in your life – it'll brighten your day 🙂

Our family isn't typical…
My boys dance.  Eric guest performs. Jordan studied for 7 years. Alek still does. Most recently, he appeared as Harlequin in our local production of the Nutcracker.  He's very talented and we're very proud of him. They began dancing when they were 4 and have worked hard at one of the best studios in the Midwest.  When Ravynn turned 4, the boys came to me concerned. She wanted to take ballet, too, but they worried that it was only for boys [never mind that their classes had always been full of girls].  They were incredibly pleased when we bought a tiny pair of pink ballet shoes.  It wasn't until a minor incident in 4th grade when they felt the bullying effects of being different.  A very kind teacher explained what exactly was the problem with the phrase 'ballerina boy' and it mostly ended. There are still comments flung around, but Alek who's 12 and in 7th grade is strong and ignores them. 
Our family is goth.  Locally, we're semi-famous for it, but you may have noticed from other comments or photos or even the About page associated with this blog.  Eric and I embrace being different, but each of the kids have at points heard rumors or fielded snotty comments based on how we look or dress.  It's a great opportunity to talk to them about stereotypes and prejudice and about not having to conform to make other people happy.  For the most part they get it, but I understand [having been a 10 year old girl once upon a time] that there is still a sting involved.  I hate that.  At the same time they love when their friends think we're cool because of the way we dress or the music we listen to.  I kinda like being famous at the elementary school, but not to the detriment of my kids.
When I read news stories about bullied kids or hear about it from fellow moms, my heart aches.  No child should have an unhappy childhood.  I mean there are some situations that cannot be avoided and the pain of them cannot be minimized, but… if the pain is caused by other kids or adults being hateful and unaccepting.  Well, the simple fact is that should be easy to change.
Several weeks ago, a Facebook post brought my attention to the blog, Portrait of an Adoption. Young Katie was being teased for wanting to carry a Star Wars water bottle to school.  Three cheers for social networking.  Geek Girls came out in force to support Katie. As I understand, Geeks, Nerds, and Dorks all came out to support her and give her strength.  I think this is awesome!  It's what I've tried to teach my own kids.  Differences should be Celebrated. Sometimes they are, as with Katie's situation.
Checking on Portrait of an Adoption, I read the story of author Cheryl Kilodavis and her book My Princess Boy. Her website explains it as:
My Princess Boy is a nonfiction picture book about acceptance. It tells the tale of a 4-year-old boy who happily expresses his authentic self by enjoying "traditional girl" things like jewelry, sparkles or anything pink. It is designed to start and continue a dialogue about unconditional friendship and teaches children — and adults — how to accept and support children for who they are and how they wish to look.
The response she is getting isn't near as positive as Katie's mother found for her.  Now, it isn't all negative and maybe I"m experiencing emotional reactions to the negative comments that I do see.  I've been in the same place. People have, over the years, explained to me that it's not 'normal' for boys to study dance or to have long hair [Eric does and Alek did until he cut and donated it in the summer of 2009]; I've been told that it's not normal for them to do these things because society believes them to be 'for girls'.  Somehow along the line it became acceptable for girls to want to do 'boy things', yet not for boys to want to do 'girl things'.  I suggest we let kids do kid things and leave it at that.
I've fought the good fight for my kids. Cheryl is fighting for hers.
I encourage you to honor acceptance for everyone and embrace diversity in your own life today.
The other night, Neil Gaiman spoke at the McFadden Memorial Lecture at North Central High School in Indianapolis. He was charming and entertaining. More than that, he was inspiring.  He read stories he'd written [one only a few weeks ago that I MUST own if it's ever in print] and shared bits of his life with his father and his daughter.
We sat at almost the back of the auditorium, but on the aisle closest to where the podium was set up, so we got some amazing photos. I was surprised that although an animated speaker, the photos just don't show it – and I took A LOT of them.
I did learn, even though I've heard the same advice a thousand times, that the best way to write is just to write. To get it down on paper and to edit it later. Honestly, I know that about writing, but something about the way he said it, made it relevant to the other areas of my life – design and parenting and being Sheila, among other things.  So I left with a new motivation to sew.  Yeah!
At one point, I had the distinct feeling that I was watching Peter Pan, after he learned those incredible storytelling techniques from Wendy.  Fascinated by the shadow he cast, I snapped this photo.
I think it's my favorite 🙂

I've been away from posting for awhile [and feeling incredibly guilty about that].  Spring is always a very busy time for our family and leaves little time for extras.  These past few weeks, though, Eric has been working on a movie with a local director.  When a call went out for zombie extras, the rest of us couldn't wait to be involved.
In Beverly Lane, Eric plays a redneck zombie killer who shows up to help a small office full of people deal with the Zombie Apocalypse.
Goofing off between scenes.
Alek and I were labeled as Featured Zombies and spent an extra few days on the set causing mayhem. Oh, and goofing off between scenes.
We're coming to get your braiiiiiiiiiiiiiins!
The movie was also covered in the local paper this morning. The article "Zombies Take Over Local Scrap Yard," features photos of Eric and of Ravynn and Whisper.  Sadly, I can't figure out how to copy them out from the website [because they want us to buy them]…
Now that filming is done, I'm back to website re-creation.  Writing product description copy makes my head hurt.  More on that later 🙂
~sheila
If I could do anything, I would.
…Figure out a cure for cancer
…Build a movie theater on the moon
…Be an underwater explorer
Welcome to Doodle 4 Google, a competition where we invite K-12 students to work their artistic will upon our homepage logo. At Google we believe in thinking big and dreaming big, so this year we're inviting U.S. kids to exercise their creative imaginations around the theme, "If I Could Do Anything, I Would …"
We're looking forward to the kids' answers too. Gather those art supplies and some 8.5″ x 11″paper and encourage your students to enrich us all with their creative visions for what they would do in the world, if they could do anything.
This year, a group of "Expert Jurors", well-known illustrators, cartoonists and animators from organizations like The Sesame Street Workshop, Dr. Seuss Enterprises, The Charles Shultz/Peanuts Museum and Pixar Animation Studios, will be helping us select the 40 finalist doodles as well as attending our awards ceremony to personally meet our winners.
Registration closes at 11:59:59 p.m. Pacific Time (PT) on March 17, 2010, and entries are due by March 31, 2010 no later than 11:59:59 P.M. Pacific Time (PT). The winning doodle will be featured on our Google.com homepage on May 27, 2010.
Reposted from Doodle 4 Google.