Archive for the 'Immediate' Category
"Dance is hard.
If dance was easy,
everybody would do it."
~Joe Modlin~
---
 That's fitting today. Eric has taken Alek to Columbus, Ohio to audition for a summer intensive in Houston. The same one he attended last year, yet hoping for a higher placement and maybe a scholarship this time around. Preparing for this audition has been a life-long journey.  Most recently, classes five days a week totally almost 20 hours including rehearsal time for pieces he's been invited to perform in and classes where he acts as an assistant. He's been dancing, following a much less rigorous schedule, for 11 years. He's had pain in his feet, legs, back, neck, and arms. He's injured himself.  We've used hot packs, meds, massage, and hugs. He's celebrated accomplishments.  We've talked about his past, present, and future. He has incredible dreams and I look forward to watching him accomplish them.
I'm incredibly proud of him.
A couple weeks ago, I joined Ravynn and her class on a "field trip" to Broadripple, Indiana, where she was sized and fitted for pointe shoes.  She's had pain previously, but minor compared to what waits around the bend. She's been warned, but I think she honestly has no clue what her pretty little feet are in for. She wants to dance and this is a necessary next step.
I'm incredibly proud of her.
And if I admit it, I'm incredibly proud of me too. Dance is hard for the dance mom as well.  Financially, it's a huge commitment and we are so very thankful for every gift we have been given and for every person who has helped us meet those requirements.  The time and energy commitments are huge as well.  There are some nights where I'm at the studio playing chauffeur four times in a three hour period.  Although the schedule can be overwhelming, I do enjoy it.
But looking from a distance at those auditions for Houston, the really hard part rears its ugly head.  This is a SIX WEEK intensive and that means a little over six weeks away from my son. I do not love that, but I've done my research and I understand this is the best thing for him. And he'll be with Joe. That does ease the fear.
So, I pour another cup of tea and thank my children for raising a mother who understands that dance is hard – but so very worth every bit of it.
Despite my general displeasure with many things about Anderson Community Schools, I do love the Power Parent program they offer.  I can log in to my parent account to see this year's grades for all my kids.
And I do.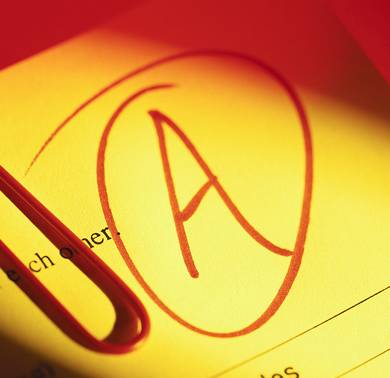 At least three times each week I check in to see whey they are struggling. Or excelling.  I log in over my morning coffee and get a quick peek at who needs to spend a few more minutes double-checking homework, who aced a French test, or who might need to reread the Great Depression chapter of their history book.
At least once each week [two of the kids more often than that], the kids will ask me to check in and make sure grades have been entered or to assure they haven't missed an assignment. At first, I was worried they wouldn't appreciate this hands-on approach or my interest in their work, but it's so much easier to keep things straight.  They see the value too.
Their grades have improved [one of them from a D-average to straight As and being ranked first in the class!] and it's much easier to be the homework heavy when the numbers are right in front of me.  This is likely easier for the teachers too. They can spend less time each week answering notes about grades and assignments.
I like the accountability I can see growing in them and I hope that continues.  It's a necessary trait that is slowly fading from many adults I see on a regular basis.
That advice is easier to give than it is to receive.
Ask any kid – being different is not an awesome experience. 
Ask any enlightented adult – it should be. 
It often takes the distance created by age and maturity to honestly appreciate it.  Every person has at least one distinct feature [physical or otherwise] that makes them different and until they learn to embrase these features, they're often the things that embarass us.
As a child, I was a shortie.  Who am I kidding?  I'm still a munchkin, barely reaching 4'11".  Inside my family, this is not odd; out in the world, it is.  I've never been athletic – prefering to sit inside and read than to head out on a bike or even playing in the yard. My mother used to have to force me outside. 🙂  I also didn't blend with my schoolmates.  I went to a small private school [on scholarship, I will note] and we didn't have the available extra cash for ski trips or the 'right' clothes and shoes.  I didn't have the newest electronics.
Lucky for me, I developed an "I don't care what anyone else thinks about me;  What I think about me is the important thing" attitude. This did not impress my parents or my teacher or many other adults, really.  If they could see ahead to the current issues with bullying, their tune may have been different.
My own kids, despite Eric's and my strong encouragement to be their own people and not cater to the boundaries imposed by society [you can't do that, you're … a boy… a girl… too young … too old… too short… etc.], have all felt the pressure of being different.  Jordan danced until he was 13.  Alek, at 14, is still in classes and intends to make a career of it.  Both boys, though, felt the sting of unkind comments from other boys in school.  At a couple points it required teacher intervention [and we're thankful for adults who educate about both the art and the athleticism of dance].  They did make it through.  Ravynn has been picked on for being small and short – but she's a full year younger than many kids in her class, so of course she's small and short.  Whisper wore glasses.  Jordan wore glasses.  Ravynn had a medical condition and has a scar on her face…  So many opportunities to be "different."
I'm pleased with how the kids deal with being their own person.  We've tried to help.  Of course, some issues are more difficult than others and we do shelter through the tears.
I encourage you to shelter and guide anyone who resists being different.  Any road is easier to travel with a friend at your side.
I married an actor.  I've spent time on stage, but out of no great desire to perform.  I mostly stepped in when a friend needed help.  My kids have all had stage time in ballet performances.  Ravynn and Whipser especially have taken to acting. We've been very fortunate with the opportunities they've had to be on camera.
Early this spring, I had the unique experience of joining Whisper on a shoot.  I've been on set with her, but only when were were both working as extras [Beverly Lane, Lightning in a Bottle].  This was my first opportunity, despite her growing resume of roles, to be "stage mom" and to just enjoy the experience of watching her act.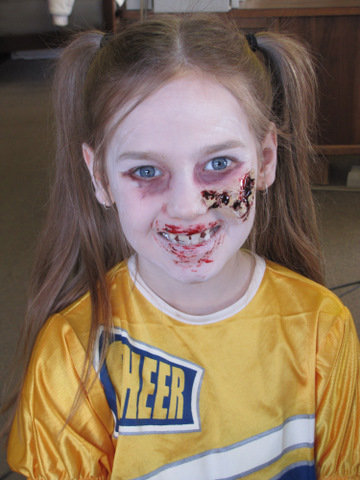 Her first role was as an extra, the Cheerleader Zombie, in the film Beverly Lane from Arsonist Productions.  She enjoyed wearing the zombie makeup and especially enjoyed her scene with her dad, Level-Nine Zombie Killer, Rick Ashley. She was patient and upbeat on set and has nothing but praise for the experience.  It didn't hurt that someone referred to her as a movie star.  🙂  It was also really nice to enjoy the experience with most of the rest of the family.  Eric played a zombie killer while Whisper, Ravynn, Alek, and I were zombies. 
This film definitely infected her with the acting bug.  You don't see her in the trailer, but that's her dad in the spiked helmet 🙂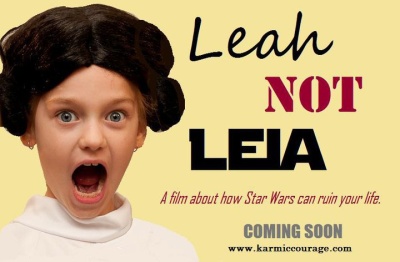 During the filming of Beverly Lane, Whisper and Eric were able to work closely with Ms. Kate Chaplin of Karmic Courage Productions who was working on a short film and needed a little girl. On their website, Kate describes the movie as, "A dark comedy about a baby girl born during the STAR WARS boom in 1977 who shares a similar name to a certain Jedi Princess that wasn't allowed to wear underwear."  Eric was in this film as well.  Jordan and Ravynn worked as extras. 
You can see her in this trailer [right around 45 seconds, but you should watch the whole thing].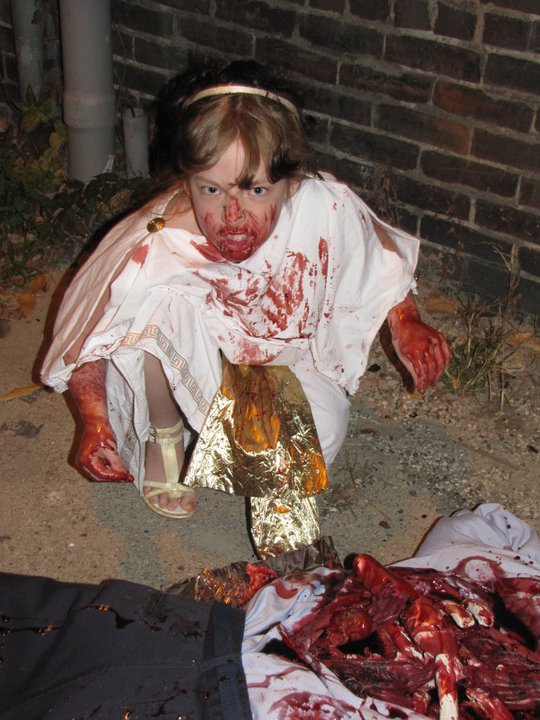 Not long after that project, Eric took on a lead role in the movie Lightning in a Bottle.  When they needed some extras for a ghost scene , Whisper and I stepped in.  Ravynn plays a maenad and Alek worked as a PA.  You can spot Ravynn and Eric in this trailer.
Ravynn had a lot of fun and left us all wishing that we could be maenads – despite their nasty lunchtime preferences.
Not long ago, we were honored to attend the premier of this movie at the Paramount Theatre here in Anderson.  I was incredibly impressed with this film.  I've seen a lot of independant film and this ranks near the top in quality.  Treat yourself to a copy of the DVD.
Her most recent project was filming a music video for the artist Thomasina's song "Muddle in the Mud".  She played the singer as a young girl. Yes, she's in prison, but as the director explained to her, it's a symbolic prison built by expectations society might have on you and how you don't quite 'measure up'. 
I was amazed by her professional attitude and her ability to be 'on' when needed. Off camera, she was sweet and charming and made friends with everyone.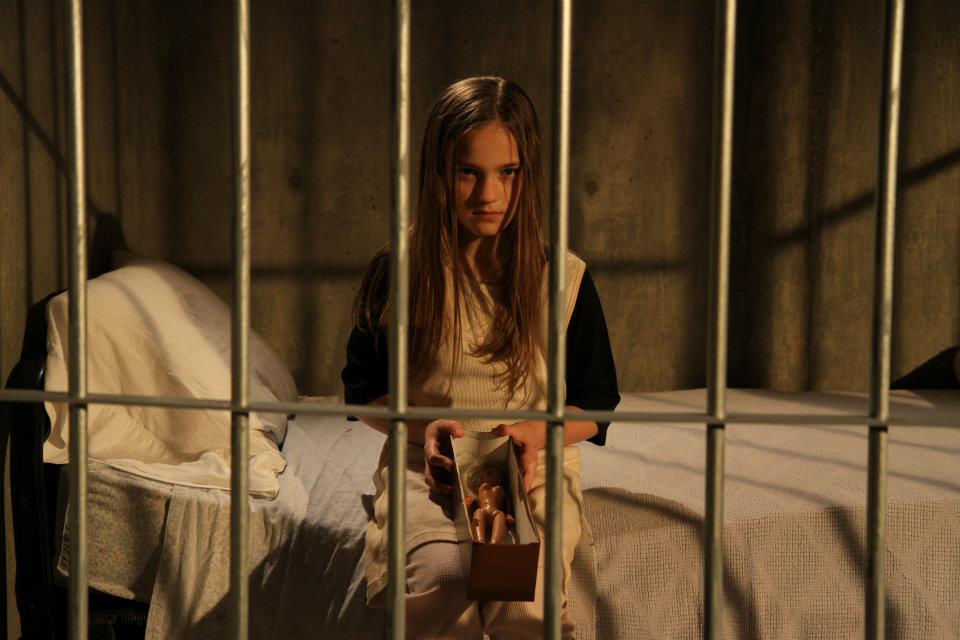 Thank you all for making 'on screen' a good experience after the trauma of Wife Swap.  I'll share more of that experience later.
If you know us, have seen our Wife Swap episode, or have seen any of our Facebook pages, you know that dance [and the arts in general] play a huge role in our lives. All of the kids have studied ballet; most of them added tap; the boys studied modern and jazz. Jordan dropped classes when he turned 13, but was happy to rejoin the cast of the Nutcracker this past year as my partner, "Party Dad – Family One." Alek, though, has really taken an interest and I'm excited about the opportunities that are opening up for him.
Last spring, he spent a week in Pittsburgh with Regional Dance America and had a great time. While he's been fortunate to study with great teachers, his exposure to other dancers [outside of his company] is limited.  Pittsburh brought new teachers and classes with other male dancers – something I think he can greatly benefit from.
This year, an opportunity for a week-long trip to Montreal, Canada was presented.  Also with RDA, this was a national festival unlike the regional festival in Pittsburgh.  He had a lot of new experiences with this trip: rerouted planes, lost luggage, foreign currency and exchange rates, and choices between tours of the city and a men's class with a well-respected teacher from France.  He chose the class; I would have chosen the tour, but my absolute love for Montreal is not undocumented.
Dance has given us incredible opportunities.  It may not be for everyone, but I encourage you to find some artistic endeavor to include in your life – it'll brighten your day 🙂
I was treated to a lovely breakfast – made especially for me by the two wee princesses – as well as a morning of lounging on the sofa and clearing out the DVR. Relaxation… ahh!  The afternoon will be a little more active – well, at least we have to leave the house.  Alek has a lead role in the HJHS production of Willy Wonka, Jr, so we're going to head over to watch and embarass him during curtain call.
Several months ago, his English teacher called to get permission for him to audition.  Because he hadn't mentionned anything about it, I worried that he was just flinging excuses her way to get out of it. Stuck on the phone needing to give an answer while he was at school, I couldn't check with him.  Crossing my fingers, I deflected back to him.  "If he wants to and is sure he can manage his dance and school schedules, we can make it work."  As it turned out, he wanted to do the show, but didn't ask because he thought there was no way to fit it all in.  So… good mama. I hear he's an amazing Candy Man. I can't wait to see the performance.
I could hear whispering and giggling coming from the kitchen as the girls worked together to make eggs, toast, sausage, and tea and solve the problems of the universe [or at least of the little girls in the neighborhood]. Breakfast was served with a vase of flowers and a steamy cup of Earl Gray with bergamot.  Cards and homemade pictures = the best!
All of this means I'm doing something right.  That's not always as evident as it is today, but I did have some really great role models.  My own mother was just short of an angel and her mother was a saint.  I'm sure that's not entirely true; everyone has their faults, but I don't have to focus on that if I don't want to. And I don't. In addition to Mother and Grandma Rounds, I had lovely aunts, cousins, and sisters who have taught [and continue to teach] me a lot.  I am thankful for them daily.  Aunt Lois, Aunt Margie, Judie, Bindy, Penny, and Aimee: Thank you.
Like most women who grew up in an age when the television was as much a member of the family as the humans, I learned from mothers who weren't my own. On my personal FB page and on our fan page, I asked friends to tell me who is their favorite TV mom.
Roseanne was the clear favorite [she makes my list too], with me coming in second [although I insist I don't count since I'm a REAL person]. Tied for third were Peg Bundy and Claire Huxtable. Michelle Duggar [also a real person, so…], Elise Keaton, Kitty Forman, and Sophia Petrillo also pulled in multiple votes. Everyone else on the list drew a single vote. 
The usual suspects appeared: June Cleaver, Caroline Ingalls, Carol Brady, and  Marian Cunningham; yet, no love for Shirley Partridge. 
The not-so-expected appeared: Morticia Addams, Edith Bunker, Olivia Walton, Ann Romano, and Florida Evans.
The modern appeared: Judy Miller, Jill Taylor, Debra Barone, Lorelai Gilmore, and Meredith [Castle].  Honestly, I had to Google most of them.
My personal Top 5 is uniquely me. 
Lorelei Gilmore//Gilmore Girls:
Love her relationship with her daughter. Love her style. Love her wit.  Not only is she a great mama, she'd be a great bestie too.
Roseanne Connor//Roseanne:
I'm sure she made her kids CRAZY – heck I'm glad she's not my mom [or my mother-in-law], but as far as doing and saying the right thing she had it.  Plus, Dan Connor = best TV husband EVER.
Lynette Scavo//Desperate Housewives: Love that attitude. She's always got it under control – even when she doubts herself. She's not afraid to show her vulnerability, but has amazing power to pick herself up.
Claudia Finnerty//Grounded for Life: Surprise after surprise and she's still going.  Those kids are difficult; her husband needs a babysitter.  She holds that family together and does it with style and sass.
Cindy Walsh//Beverly Hills 90210: Umm… does this really need an explanation? Perfect.  Just perfect. 
I see these women as parts of the puzzle designing the the kind of mom I want to be. Someday, I may get there. Probably not. Being a good parent is a work in progress – my expectations keep changing. Because they should.
Like many parents, we focus on report cards, conduct, manners, social skills, abilities… All the things we've learned make us good and successful people.  At the same time, we DO NOT judge the value of humans on their net worth or on the title attached to their profession [despite my fashion preferences, I do have the heart of a hippie].  We teach our kids that while being financially sucessful is not a bad thing, true success is determined by your happiness and the relationships you value, by measure of inner peace and character.
Sitting with the kids tonight, I asked them what they think makes a successful adult.  Ravynn stated "someone who is polite and speaks nicely to people," while Whisper's definition was "someone who is loving and kind."  I was pleased that they are absorbing what I want to teach them and hope we continue along this road together. 
This advice from Thoreau sums up many of my hopes:
Each second we live is a new and unique moment of the universe, a moment that will never be again  And what do we teach our children? We teach them that two and two make four, and that Paris is the capital of France. When will we also teach them what they are?
We should say to each of them: Do you know what you are? You are a marvel. You are unique. In all the years that have passed, there has never been another child like you. Your legs, your arms, your clever fingers, the way you move. You may become a Shakespeare, a Michelangelo, a Beethoven. You have the capacity for anything.
If a man does not keep pace with his companions, perhaps it is because he hears a different drummer. Let him step to the music which he hears, however measured or far away.
– Henry David Thoreau
I sit now, wondering how to teach someone WHAT THEY ARE.  Not easy, but I'm committed. At least to leading them to the path of discovery and allowing them to find the truth for themselves.
I hope to see more parents with the same concerns.
~sheila

Monday. First one in the new year. Kids back to school.  Grownups back to work. 
After we'd celebrated Yule in December and anticipated the days growing longer and after we'd gone to the grocery on Saturday in long sleeved shirts instead of winter coats, I was completely unprepared for how cold and dark it was at 7:30AM when the girls stepped out to wait for their buses.  I think I should have taken coffee with me.  I should have also taken coffee with me when Eric and I trekked across town on foot [really, it was only a few blocks] for a scheduled 9:00AM appointment in the courthouse only to find a note posted informing us that the courthouse is closed for observance of the NY holiday.
Grumble.
At least I had this gorgeous face waiting outside with me.
The cold walk back to the car instead of sitting down in a nice warm office got me thinking about yesterday's post, though.  The 'roll with the punches' aspect of acclimating to the change around me.  As a DM, I'm responsible for many of them, but sometimes a player with throw a weird decision my way or a random question will throw me into a tangent of new creative options to test the players. 
Today, in the cold, I wondered about new creative options to test me.
We all become lazy and comfortable in the roles we build for ourselves: wife, mother, sister, friend, business owner. And shouldn't we all want to be the best of them that we can?  Maybe we all need a random dice roll to move us in another direction?
I think I'll try it.
~sheila

Truth:
I found my Christmas stocking FULL of items suited to being a DM.  For those of you not in the know, a DM is a dungeon master. Sort of a tour guide in the world of Dungeons and Dragons.  I'd played a bit shortly after Eric and I got married and moved to Orlando, Florida.  I was hooked. After we moved, we tried to get groups together every now and again, but nothing stuck.  A couple months ago, we tried again to get a group together.  It worked!  I'm sure it helps greatly that three of our four kids are old enough to play and the youngest already shows an interest. Even if we can't find friends to come over and join us, we're set! 
Truth:  I greatly dislike DMing.  Judge, jury, executioner.  Yes, it all sounds like something I should enjoy.  Storycrafter, dreamer.  More like me.  Organizer, task-keeper, manager.  Even more like me.  However, there is something about the job that drives me up a wall.  A weathered, gray stone, stained with the blood of orcs, wall.
Truth: I shouldn't complain.  My family likes playing together and they claim I'm good at it. 
As it turns out, I'm in good company as a DM and player.  Many people I respect greatly are known to play. Kevin Smith, Jon Favreau, Matthew Lillard.  Even Judy Dench!
So, as a part of my preparations for 2011, I'm embracing what D&D [DMing, especially] can teach me. 
Planning
Updating those plans on the fly
Enjoying the journey
Accepting help
Always using a critical and creative eye
Although, I also need to keep in mind that it's not all about the loot or the XP.
 ~sheila

So often New Year's celebrations focus more on wishing good riddance to the year just ended than to looking ahead to the year just begun.  We look at [and routinely list] the changes we want to make in our lives to make them better, but rarely look at the personal changes that will make us better people.  Losing weight is good; living a healthier lifestyle is better.  Making more money is good; being happier in our chosen profession is better.  At least from where I stand.  🙂
My goals -including my business goals- will be made with personal improvement in mind.
Our celebration was very low key.  Kids and I watched a movie while Eric played a game on the computer.  About 10 minutes before midnight, we switched the TV to the FOX NY party and counted down the last 30 seconds to the new year together, then toasted with champagne and sparkling juice.  A birthday wish to my dear Mother rang out in our home as fireworks echoed down the street.
For many years, my NYE plans included a midnight call to Pennsylvania. This year, though, it was spent explaining to our kids why Grandma doesn't read the birthday cards we send.  That renewed my interest in completing our family tree project.  Keeping everyone connected, you know 🙂  And made me promise to take a photo a day throughout the year. Hone my skills and keep me blogging.
Best wishes for health, happiness, and prosperity to you in this new year.
The next week will move us closer to a solid plan for the year.
~sheila