About
Welcome to Bats! meow… 🙂  Come on it, grab a cup of tea, and have a seat.  We have a lot to talk about.
First, let me introduce you to the people behind the scenes.
The Family: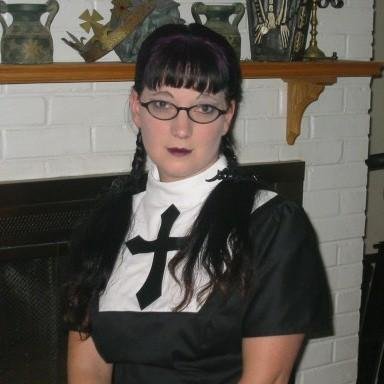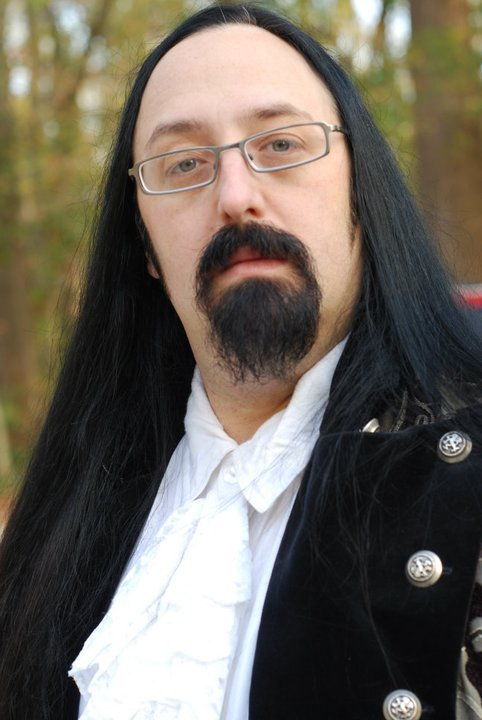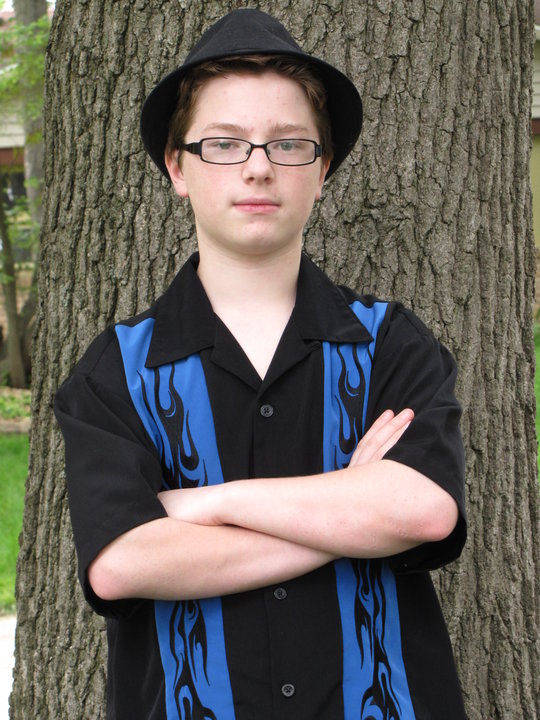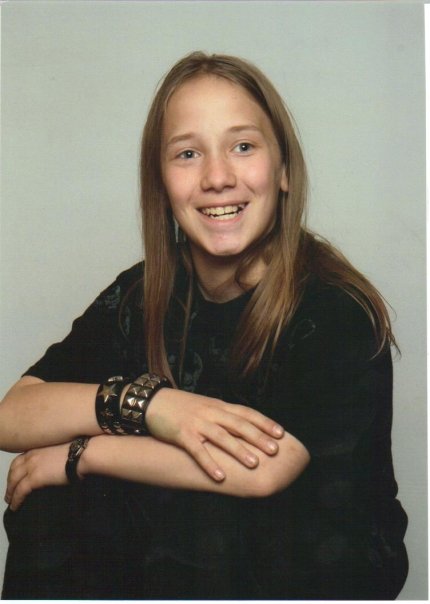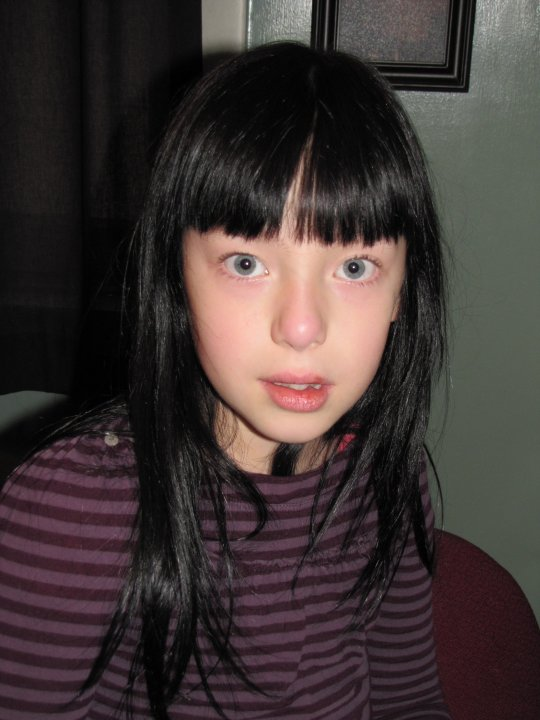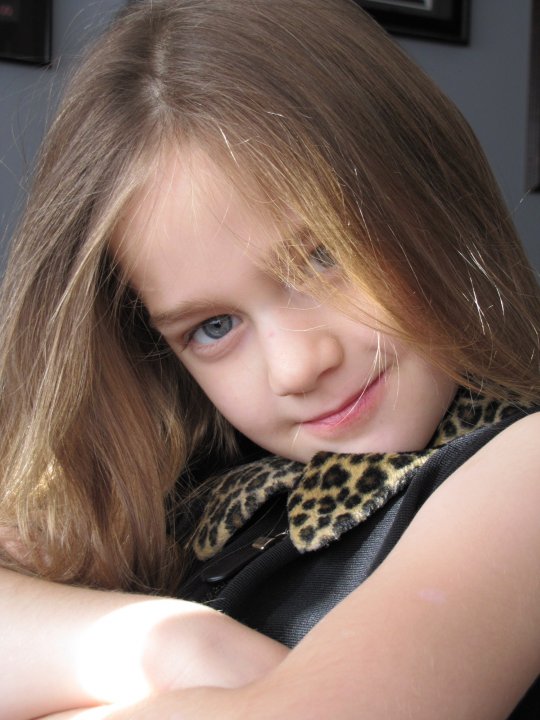 SHEILA: 41, the mama. Currently working a very full part-time schedule out of the house .  I have a BA in Literature and I love writing and reading.  Someday, I'll finish that novel.
ERIC: 41, the daddy. Sheila's husband of 17 years. Works for a publishing company in Indianapolis. Has his BA in Theatre; and an MA in Interpersonal Communication.  He's recently started painting and he's really good.
JORDAN: 15, our oldest son. An honors student and relatively social.  He's a reader and loves to be online.
ALEK: 13, our youngest son. The 'active' one in the bunch.  He needs to be reminded to slow down – often.
RAVYNN: 9, our oldest daughter. The princess.  Definitely a girly-girl who loves her dolls and pretty things.  She's a reader and maybe the most introverted of the kids.
WHISPER: 8, the baby. A performer who is always 'on'.  She's never met a stranger.
I, Sheila, am a wife and mother, just like many other women you see every day. The difference falls, I expect, in the aesthetic that I wrap myself in.
You see… I'm a goth.  Yes, one of them.  And my husband is as well.  We dye our hair black, paint our nails black, dress most often in head-to-toe black.  We, like many of our contemporaries, find an elusive beauty in the darker things that many (normal) people walk straight past without even noticing.  We do enjoy a curious fascination with skulls, bats, and spiders – and we share this with our children.  We even created our clothing company, Bats! meow… [more about that in a bit], to assist other parents in sharing their love of goth culture and fashion with their children.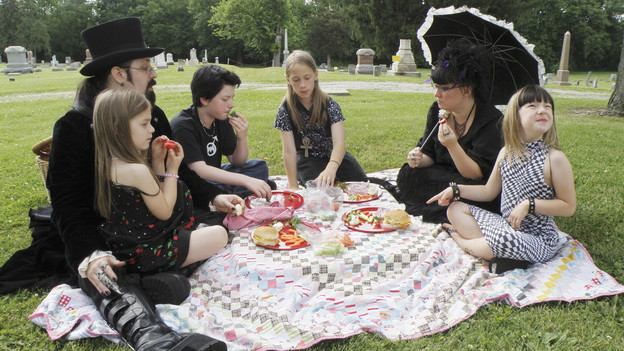 I won't lie; we have gotten many different responses to our parenting style.  Strangers will criticize for the way we look and the hobbies we enjoy [like picnicking in cemeteries], or even for assumptions that they make about  our lifestyle.  Still, we know we have amazing kids – they're respectful and polite, on the honor roll, active in dance and other activities.  They're the kids you want to have and the friends you want your kids to have.  Yes, they act up sometimes; yes, they get in trouble and get grounded; yes, they fight – they're kids, not robots.   But all-in-all, I think we've done a good job and I firmly believe our connection with the goth community has influenced some parenting choices in a very positive direction.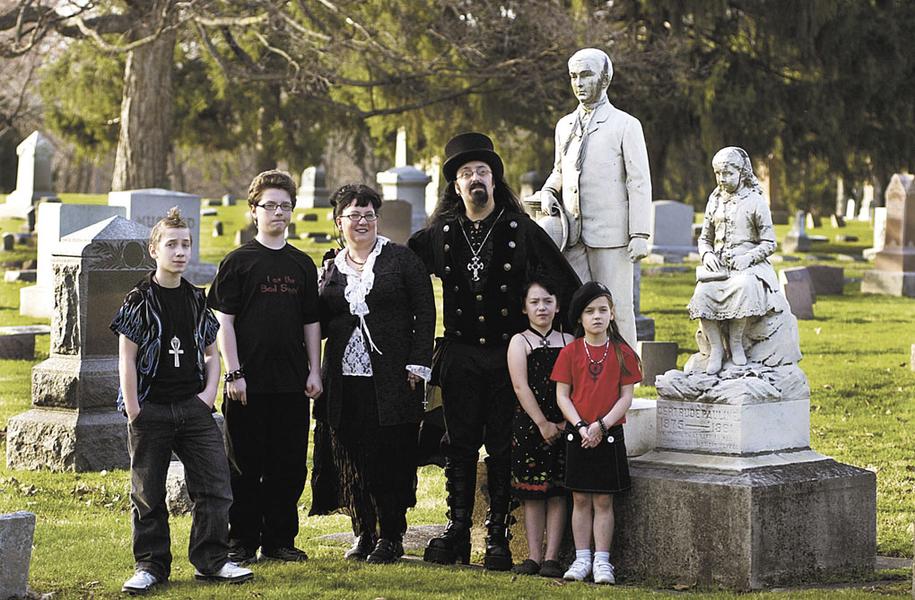 Also playing a major role in our family is BATS! MEOW… which is a personality all on it's own.
Have you ever been out and looked at yourself, then looked at your kids and thought "I look like these kids followed me out of the Baby Gap store at the mall"?
I feel your pain. I've been there.
As the mother of four wee gothlings, I spent more than my fair share of hours strolling up and down countless aisles in local department stores, hoping to find just one item that would be appropriate for my children. I just felt weird dressed in my finest Dark Angel, Retail Slut, or Morbid Threads, while pushing the stroller containing a glittery-pink little girl.
Face it, I don't look like the other PTA moms. My children don't wish to look like theirs?
Out of this immense frustration was born the idea to create that which I could not find: alternative fashions for alternative kids.
I present to you: Bats! meow…
We are a very small company located in central Indiana. We do not have a storefront and exist solely online, so I have no overhead to contend with. This ensures you will receive fair and reasonable pricing. We use top quality materials and our printed items will enjoy a long life, even on the kids. We're extremely committed to customer service and satisfaction and will welcome your comments and suggestions. Send us a good one, and we may reward you with a gift certificate for use on your next Bats! meow… purchase.