Posts Tagged 'Purplume'

Purplume, one of our regular commenters, has nominated us for the Happy 101 Blog Award 😉  I encourage you to go and check out her blog – I love reading it and would have nominated her, but… it can't work that way.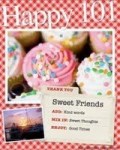 Cool, no? Good friends give on to others. They share the love and wealth and cupcakes. And so, the rules for this privilege are to:
Copy and display the award on one's blog.
List who gave me the award and link to their blog.
List 10 things that make me happy.
Pass the award on to other bloggers and visit their blog to let them know.
Let's see, things that make me happy:
Eric, my love and partner in crime.  We've been together forever, but those hugs still fix what ails me.
The monsters [Jordan, Alek, Ravynn, & Whisper] and the music of their laughter.
Mail with stamps – cards, letters, invitations, postcards.
Crashing through a roadblock in my genealogy research or finding new-to-me old family photos.
Finishing a new product design and pattern and showing it off 🙂
Moose tracks ice cream on an almost hot summer day.
Exploring old cemeteries.
Snuggling under the blankets ALL DAY on a Saturday and watching movies I've already seen 100 times.
Knowing that, if only for a few minutes, all of the laundry in the house is clean, folded and put away.
Being able to drive with the windows open for the first time each spring.
And for the blogs, I nominate and recommend: