Archive for the 'Movies' Category
I noticed the other day that I often refer to something as "one of my favorite xxx ever." At a certain point, I realized I must have 100 favorite movies and even more favorite songs. So, I challenged myself to make definitive lists of my top tens as an exercise in creative thinking.
Today, I offer you My Top Ten Movies.
Reservoir Dogs
What's not to love? Tarantino. Keitel. Either one of those is enough, but both together… Awesome! Best. Movie. Ever.

Full Metal Jacket
The movie most people remember from my senior year in high school is Top Gun, which was a fine movie, but this one… I've seen it so many times and it just keeps getting better.

Natural Born Killers
A true chick flick.  Mickey Knox, I think I love you.

Apocalypse Now
Craaaaaaaaaaazy Marlon Brando.  The man is genius.

Moulin Rouge
So. I hate musicals.  Hate them. Can't make it through the first song – with rare exception.  This is an exception.

Practical Magic
I want this life.

Romance
I love everything from Catherine Breillat. Everything.  But I love this most.

Picnic
I saw this movie the first time with my Daddy. I think he was more than a little concerned about my fascination with the anti-hero…  He should have been.

Peter Pan
Love the book. Love the story. Love this adaptation.

?? [A movie I don't know the name of]
Yeah… So also with my father, I watched a movie about a civil war unit.  At least part of it focussed on the drummer boys who were following the soldiers. I watched it as a child, so pre-1983 probably.

No. These are not in any real order.
Yes. They change almost daily.
I married an actor.  I've spent time on stage, but out of no great desire to perform.  I mostly stepped in when a friend needed help.  My kids have all had stage time in ballet performances.  Ravynn and Whipser especially have taken to acting. We've been very fortunate with the opportunities they've had to be on camera.
Early this spring, I had the unique experience of joining Whisper on a shoot.  I've been on set with her, but only when were were both working as extras [Beverly Lane, Lightning in a Bottle].  This was my first opportunity, despite her growing resume of roles, to be "stage mom" and to just enjoy the experience of watching her act.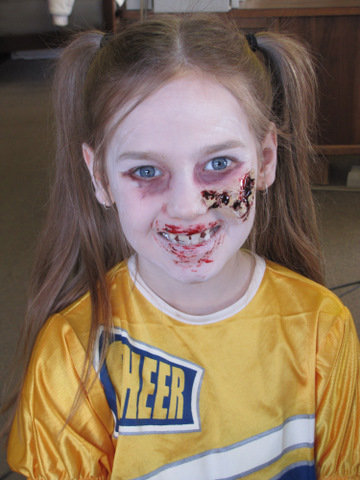 Her first role was as an extra, the Cheerleader Zombie, in the film Beverly Lane from Arsonist Productions.  She enjoyed wearing the zombie makeup and especially enjoyed her scene with her dad, Level-Nine Zombie Killer, Rick Ashley. She was patient and upbeat on set and has nothing but praise for the experience.  It didn't hurt that someone referred to her as a movie star.  🙂  It was also really nice to enjoy the experience with most of the rest of the family.  Eric played a zombie killer while Whisper, Ravynn, Alek, and I were zombies. 
This film definitely infected her with the acting bug.  You don't see her in the trailer, but that's her dad in the spiked helmet 🙂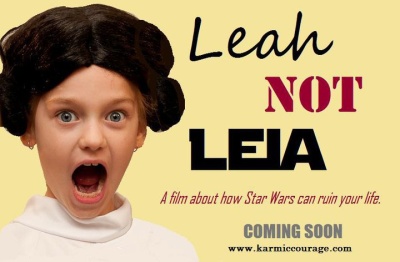 During the filming of Beverly Lane, Whisper and Eric were able to work closely with Ms. Kate Chaplin of Karmic Courage Productions who was working on a short film and needed a little girl. On their website, Kate describes the movie as, "A dark comedy about a baby girl born during the STAR WARS boom in 1977 who shares a similar name to a certain Jedi Princess that wasn't allowed to wear underwear."  Eric was in this film as well.  Jordan and Ravynn worked as extras. 
You can see her in this trailer [right around 45 seconds, but you should watch the whole thing].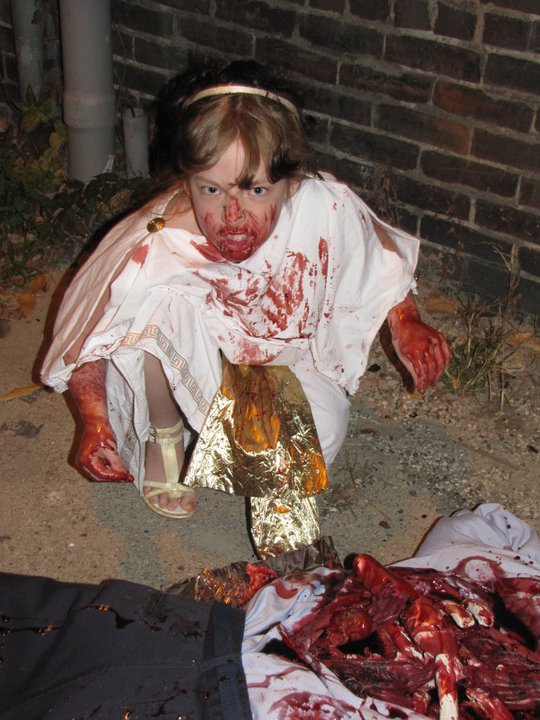 Not long after that project, Eric took on a lead role in the movie Lightning in a Bottle.  When they needed some extras for a ghost scene , Whisper and I stepped in.  Ravynn plays a maenad and Alek worked as a PA.  You can spot Ravynn and Eric in this trailer.
Ravynn had a lot of fun and left us all wishing that we could be maenads – despite their nasty lunchtime preferences.
Not long ago, we were honored to attend the premier of this movie at the Paramount Theatre here in Anderson.  I was incredibly impressed with this film.  I've seen a lot of independant film and this ranks near the top in quality.  Treat yourself to a copy of the DVD.
Her most recent project was filming a music video for the artist Thomasina's song "Muddle in the Mud".  She played the singer as a young girl. Yes, she's in prison, but as the director explained to her, it's a symbolic prison built by expectations society might have on you and how you don't quite 'measure up'. 
I was amazed by her professional attitude and her ability to be 'on' when needed. Off camera, she was sweet and charming and made friends with everyone.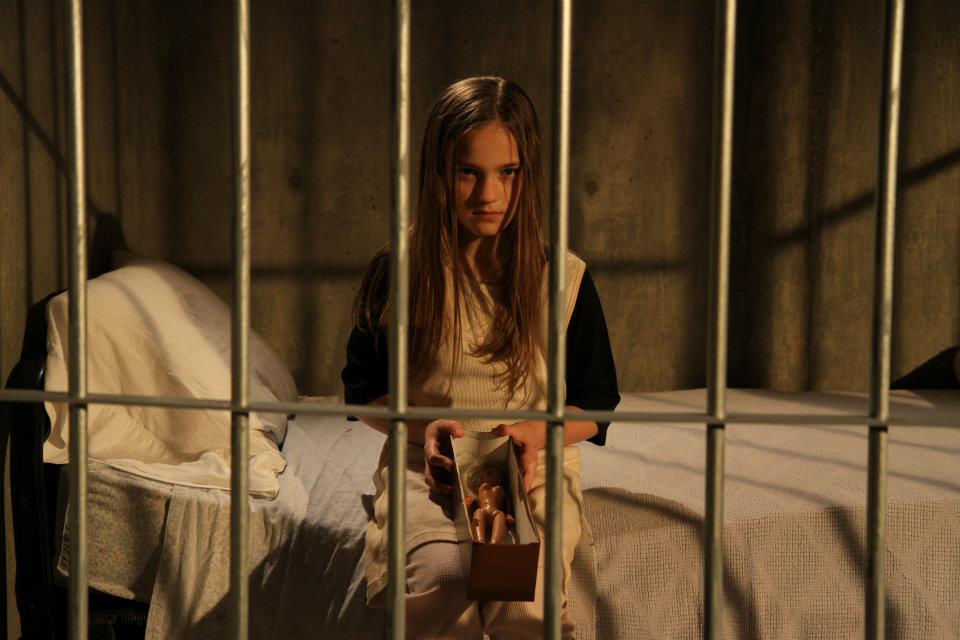 Thank you all for making 'on screen' a good experience after the trauma of Wife Swap.  I'll share more of that experience later.
Tags: Beverly Lane, eric, Leah Not Leia, Lightning in a Bottle, movies, Muddle in the Mud, ravynn, Thomasina, whisper
Posted in Family, Immediate, Movies

I cannot tell you how excited I am for this movie.
Watch the trailer; it will touch your heart.  I'll certainly post about it again with more information.
I find a ton of really cool offers and information at BzzAgent; I'm registered there as 'monstermommy'.
~sheila

Today has been a busy day. A very busy day.
While I was able to sleep in some [and planned to do it], I slept much too long and had to rush to get Alek to dance class on time.  He's a drop-and-go kid, so after the quick drive over, I ran back home. I should have gone straight to the sewing studio and got to work, but I planned on a relaxing late afternoon. So I sat down and watched a couple episodes of a cartoon I really dislike with the other kids.  Before I knew it, it was time to head back to pick him up. Woops!
It should have been another quick trip over and back, but I think Alek stopped to talk to every last person in the building before coming out to the car.  His social nature isn't usually a problem to our schedule, but I didn't work that many extra minutes into the morning.  Back home and it was time to wake up Eric for another drive back to the dance studio. Somewhere in the hour that I was at home, I started to wonder about myself.  Aren't Saturdays supposed to be quiet?
Maybe they are, but today we were helpers.  The studio where the kids take classes had scheduled a cleaning day for the props and costumes room.  Ravynn's teacher had asked me on Tuesday to come and help out and I talked Eric into joining me.  Alek, because he is moving on up in the class hierarchy, decided he should go and help too. Besides, there was the promise of picking up discarded loot.
The session was scheduled from 1-4.  We arrived about 20 minutes early and worked hard. My phone rang a couple times while the kids checked in from home, but it was early.  When we stopped long enough for a rest and to gather our finds into a neat bundle that was out of the way, I checked my phone for the time – almost 5!  So we said our goodbyes and headed home.  Within the next few days, I'll try to photograph some of the wonderful items we picked up.  Eric will use them in his paintings and I'll use them in one-of-a-kind fashion designs.  Alek even got some fun things for himself.
When I got  home, I realized that three of us hadn't had lunch yet and it was time for dinner.
I kind of copped out on cooking for the kids and made fish planks, a box of microwave noodles with cheese sauce, and canned peas.  I desperately need to go to the grocery, so I had to get creative for Eric and I.  I sat down with my BH&G cookbook and started flipping through pages, determined to make the first thing I had all the ingredients for.  It could have gone bad. Luckily, this cookbook starts with an appetizer section.  I was overjoyed to find out I could make Coconut Shrimp -and- that they were easy and low-fat.  Ravynn and I went to work while the fish baked. I really like cooking with her and it appears she likes cooking with her mama too.
After dinner, we sat down to watch a documentary from the History channel about death masks. I was amazed by how interested the kids were, but also happy that it led to some interesting conversations about President Lincoln, Napoleon, and John Dillinger.  Just another reminder that MY KIDS ARE AWESOME!  After that, the boys asked for a movie, so we had them pick – Zombies Anonymous was their choice.  It was a decent movie, but nothing I'll watch everyday.  I liked the angle they took on the zombie/human relationship.
The boys retreated to their room for another movie while the girls asked if they could stay up. Sure, but we need to turn off all the lights so it's spooky 🙂  Agreed. Someone chose the movie P2, which stars the movie-making kid from American Beauty.  Whisper zonked on the sofa about half an hour in, but Ravynn is loving this movie.  She's our little night owl and is very proud of that fact. This movie is much better, but has had one or two questionable scenes/events.  I can forgive them; it's tying together pretty well.  We'll see how it ends.
Despite the fact that I've accomplished nothing, it's been a really good day.  I hope for more just like it in the future.
~sheila