Archive for the 'Awards' Category
We're running a a Rafflecopter giveaway!!!
Come on over and enter to win a fabulous Trick or Treat bag from Bats! meow…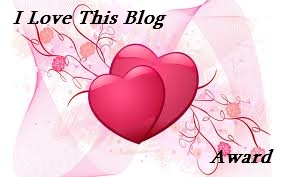 Sadly, I don't have as much time as I'd like to read other blogs.  There are a few that I wouldn't dream of missing – even if I do play catch up every 2 or three days.  I wanted to take this time to award them the "I Love This Blog" Award and encourage them to keep going!!
---
Kids Running Wild was created by my cousin, Rhonda.  We had tons of sleepovers when we were little and she played piano at my wedding, but we hadn't talked for years before we found each other on Facebook.  While I'm not a runner [and don't expect I ever will be], I love the tips she gives for getting and keeping kids active.  I'm also a big fan of her feature, "What I Ate Wednesday." 🙂
---
Kate SeRine is a friend I've known for many years.  She worked with Eric and then a few years later, we all worked together for a different employer.  My kids call her aunt and her kids call me aunt.  We're family.  I love so much to watch her success and to KNOW how deserved every bit of it is.  I've read the first book in her Transplanted Tales series and I highly recommend it.  Looking forward to reading the rest of the series [and anything else she sends our way].
---
b'longa'b is another cousin of mine. I met her only a few times in our young lives, but we connected really over [you guessed it] Facebook.  We did have a chance to meet for lunch once – that lunch lasted over 7 hours because of how much we had to say to each other.  Her blog is an extension of that conversation.  I laugh, I empathize, and most of all I learn about her and about ME.
---

Purplume, one of our regular commenters, has nominated us for the Happy 101 Blog Award 😉  I encourage you to go and check out her blog – I love reading it and would have nominated her, but… it can't work that way.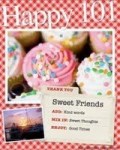 Cool, no? Good friends give on to others. They share the love and wealth and cupcakes. And so, the rules for this privilege are to:
Copy and display the award on one's blog.
List who gave me the award and link to their blog.
List 10 things that make me happy.
Pass the award on to other bloggers and visit their blog to let them know.
Let's see, things that make me happy:
Eric, my love and partner in crime.  We've been together forever, but those hugs still fix what ails me.
The monsters [Jordan, Alek, Ravynn, & Whisper] and the music of their laughter.
Mail with stamps – cards, letters, invitations, postcards.
Crashing through a roadblock in my genealogy research or finding new-to-me old family photos.
Finishing a new product design and pattern and showing it off 🙂
Moose tracks ice cream on an almost hot summer day.
Exploring old cemeteries.
Snuggling under the blankets ALL DAY on a Saturday and watching movies I've already seen 100 times.
Knowing that, if only for a few minutes, all of the laundry in the house is clean, folded and put away.
Being able to drive with the windows open for the first time each spring.
And for the blogs, I nominate and recommend:

Thank you to Mandy at I Am Java Mama for thinking we're worthy 🙂
The rules for accepting this:
Put the logo on your blog or within your post (right click and save),
Pass the award onto 12 bloggers,
Link the nominees within your post,
Let the nominees know they have received this award by commenting on their blog.
I'm awarding the following blogs:
I've selected these blogs for a variety of reasons. I encourage you to check them out 🙂
~sheila