Posts Tagged 'family history'

I found this article today while searching for documentation on the Victorian custom of cemetery picnics.  These statues are favorites of ours and we often leave flowers with them on our visits.
The Statues — Their Story

Children's graves are the saddest in any cemetery, but especially on twilight days like these when cold keeps visitors away.

Maybe it is their small size, tombstones only half grown, or the small spans of their dates, speaking of life unlived.

Most often they are smaller and more simple than the markers around them, small and simple like those they remember.

But more than 100 years ago, when George Hilligoss' only two children died within six years of each other, small and simple was not enough. He required a monument as elaborate as his grief.

That monument still stands today looking out of West Maplewood Cemetery in Anderson toward the traffic of Grand Avenue, two statues of white Italian marble on a shared pedestal. Life-sized replicas of Hilligoss' children.

Charlie Ingersoll Hilligoss is portrayed as the 16-year-old he was when he died. He stands with his elbow leaning against a stone pillar and wears a suit, coat buttoned as if against the cold. He holds his hat in his hand.

His sister, 6-year-old Gertrude Pauline Hilligoss is seated close enough for him to touch with a book and a bundle of stone roses in her lap.  Water drips from the edge of her stone skirt.

The passage of 100 [years] has antiquated their clothing.  A hundred winters of snow and rain has worn the carving of their names and the message underneath: "We know that life is all the sweeter that they lived. And death is all the brighter that they died."

But 100 [years] has yet to dull that universal pang, that grief for lost children. Maybe it is that, besides their lovely white faces among the anonymous tombstones and obelisks, that interests passersby.

Maybe that is why, though they are not known to have any living relatives, brightly colored bouquets of flowers appear in heir hands with each change of the seasons.

The late RE Hensley, once president of the Madison County Historical Society, was one person who found his curiosity piqued by the melancholy likenesses of the two children.

In 1975, while cataloging the names on the cemetery tombstones, he took it upon himself to find out who they were. What he uncovered fit on one side of a typed sheet of paper.

George Hilligoss, Charlie and Gertrude's father, was a doctor who practiced in the Madison County are for 30 years, for some time owning an office on Anderson's Main Street. An Indiana native, he was one of the county's original settlers and a veteran of the Civil War before becoming a prominent Anderson resident.

He and his Prussia-born wife Caroline had a son, Charlie, in 1871, and a daughter, Gertrude, in 1875. An article published much later in an 1892 edition of the Anderson Democrat, detailing the arrival of the children's monuments from Italy, call the two the pride of their parents. "The children were exceptionally precocious and possessed mental strength that was far beyond their years," it said.

Gertrude died first in 1881, then Charlie in 1887. Their causes of death are unknown.

"I think the children had died of some kind of disease," says Donna Nicely, a secretary at the Maplewood Cemetery office, but no one knows for sure. Cemetery records which would have held that information were lost in a fire more than 50 years ago.

Whatever the causes of their deathes, it can be assumed they were blows to the two parents, suddenly childless.  In his short account, Hensley writes, "It has been said that the deaths of Charles and Gertrude weighed very heavily on both Dr. and Mrs. Hilligoss and that she could never reconcile herself to the fact that they were dead."

Hensley goes on to say that George Hilligoss was the first president of Camp Chesterfield, the spiritualist camp founded in 1886, a year that falls between the deaths of Gertrude and Charlie.

Whether or not the loss of his children stirred his interest in a spirit world can only be guessed. Probably no one know sif a bereaved George and Caroline tried to reach their children beyond the grave.

What is known is that they were desperate to have their children remembered on earth. The Anderson Democrat article says that the couple conceived the idea of having the statues made shortly after the deaths. They found a sculptor in Florence, Italy, and sent him two life-size photographs of Charlie and Gertrude to work from.

It took three or four years for the work to be completed. For several months, the Italian sculptor refused to finish the statues, in protest of a highly publicized incident in New Orleans in which some Italians were lynched.  But friends intervened and he did eventually ship the completed works, in 1892, to Indianapolis.

More than a century later, local history buffs have not been the only ones to be curious about the cemetery monuments.  "Every once in a while we get calls on the Hilligoss children," says Phyllis Leedon, a librarian at the public library in Anderson. "As far as I know, there's no family."

Nicely says the cemetery office also receives calls periodically from people curious about the identities of the two children. She has felt a twinge of it herself, driving by them everyday on her way to work.

"Oh, I think they're beautiful," she says. "For many years, they've had some kind of significance."

Especially to children, it seems. Nicely has heard the spook stories some tell about the two statues changing positions. Sometimes, it is said, Charlie's hand rests on Gertrude's shoulder, sometimes at his side.

There is something strange about their ghostly forms, luminous in the long shadows of ware winter trees, and something sad about the melting snow lying on Gertrude's lap, on Charlie's shoulders. Only the latest in a century of snows.

"But fate had ordained that they should live only in memory," the newspaper article says. The statues demand at least that much, causing strangers to pause and pity, to wonder about the two lost children just as their father must have after they were gone.

Perhaps it would please him, even though, he is gone now too, buried next to them.

–Steffen, Colleen. "The Statues — Their Story." Anderson Herald Bulletin 31 Dec. 1996: A1+. Print.
The Indiana Memory Collection website states, "An iron fence once surrounded them, but it was taken during WWII for scrap metal."
Don't we all hope to be loved so much?  And if we do love someone else so much, shouldn't we tell them?
Now, back to my regularly scheduled research.
~sheila

Purplume, one of our regular commenters, has nominated us for the Happy 101 Blog Award 😉  I encourage you to go and check out her blog – I love reading it and would have nominated her, but… it can't work that way.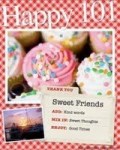 Cool, no? Good friends give on to others. They share the love and wealth and cupcakes. And so, the rules for this privilege are to:
Copy and display the award on one's blog.
List who gave me the award and link to their blog.
List 10 things that make me happy.
Pass the award on to other bloggers and visit their blog to let them know.
Let's see, things that make me happy:
Eric, my love and partner in crime.  We've been together forever, but those hugs still fix what ails me.
The monsters [Jordan, Alek, Ravynn, & Whisper] and the music of their laughter.
Mail with stamps – cards, letters, invitations, postcards.
Crashing through a roadblock in my genealogy research or finding new-to-me old family photos.
Finishing a new product design and pattern and showing it off 🙂
Moose tracks ice cream on an almost hot summer day.
Exploring old cemeteries.
Snuggling under the blankets ALL DAY on a Saturday and watching movies I've already seen 100 times.
Knowing that, if only for a few minutes, all of the laundry in the house is clean, folded and put away.
Being able to drive with the windows open for the first time each spring.
And for the blogs, I nominate and recommend:

Yesterday was a day of remembering.  And the thing is, I didn't realize until I was outside with Ravynn and Whisper this morning while they waited for the bus.
The day started with a drive out to Camp Chesterfield for the tea reading seminar.  I've never read tea leaves, but I really want to!  So, I'm hunting for loose tea through a couple of websites that were suggested by friends.  I've spent some time looking at Stash Tea and Special Teas is next! I'm also hunting down tea cups with plain white interiors on Ebay. I've found I set that I like and I'm waiting for an answer from the seller about the inside.
There wasn't a great depth of information provided at the seminar, but there was enough that I'll feel comfortable giving it a go once I have everything I need.  The process for the readings is fairly simple:
Brew a HOT pot of tea with loose tea
Pour a cup
Drink most of it.  Sipping the tea will allow your aura to infuse with the tea and will give a proper reading.
When the tea is mostly gone and there are dregs showing in the bottom, hold the cup in your left hand and swirl it three times.
Place the saucer upside down over the cup and flip it all together and all at once, so the cup is sitting upside down on the saucer [which is right-side up].
Turn the cup three times and end it with the handle facing you/the reader.
Lift the cup and explore the patterns left by the leaves.
The suggestion was to use a cup with a white interior so the leaves are easier to see.  Patterns on the left of the cup indicate the past; patterns near the rim indicate the present/near future.  Dark leaves indicate a man; light leaves indicate a woman.
I need to do more research to learn the meaning of specific symbols. I'd hoped the class would touch on that more, but it didn't.
What the class did focus on was the importance of drinking tea for health – both physical and emotional.  The mention of tea parties for children brought back lovely memories of sitting in the living room at my grandmother's home with my Aunt Lois.  She drank tea ALL the time and made cups for my sisters and I when we went to visit – which was quite often as we were lucky enough to live across the street.  We sat and drank tea while we watched Grandma crochet or put together puzzles.
Grandma Rounds
Aunt Lois taught us to embroider and let us help her with projects. Now I have to wonder exactly how much help we were 🙂  The tea seminar really reminded me of those days, which was nice.  We lost Grandma in 1979 and lost Aunt Lois in the summer of 2008.  I always think of them when I have a strong black tea.  I will continue to do so.
After we came  home, we had bags of loot to sort – BAGS.  I attempted to take photos in order to share the before and after [as many of these items will become one-of-a-kind items for Bats! meow…] but I hit some strange combination of buttons on my camera which changed the options to Black & White photos.  You really need to see the color on these! So after I call customer service and get that straightened out, I'll be able to share!  As we were digging through the old costumes, we checked the tags and waistbands for the ever-present name in Sharpie ink that told us who they used to belong to.  Some of these clothes belonged to girls who were smaller than Ravynn and Whisper when we met them.  Eric and I started working with the studio in 1988, when he was a college freshman. We entertained the kids for hours with stories of when their ballet teachers were little and with descriptions of past choreography.
The evening ended with the Grammys.  Normally, we skip them.  This year,  however, Whisper had begged us for days to pick up 3D glasses at Target and we were ready for the Michael Jackson tribute.  I was pleased that they were broadcasting expected air times for performances as the show progressed.  10pm…  almost two hours past the girls' bedtime and an hour past the boys'.  With a quick reminder that they'd have to get up for school with NO complaints, we agreed to let them stay up. I joked on my personal Facebook profile that I was 'the worst mother ever,' but I'm glad we made the decision we did. Instead of watching covers of his more successful songs, we were treated to a celebration of his humanitarian efforts. I cried. I did.  Whisper did too.  She didn't know who he was prior to his passing, but has since become his biggest fan – even asking for an MJ birthday party in February.  Because of her tears, she snuggled up onto my lap and sat for a few extra minutes and was treated to seeing his two oldest children accept an award on his behalf.  Children should not lose their parents so young.  Everyone felt that.
This morning the girls hopped out of bed while the boys dragged their way through the morning [much like mama!] and I treated them to some music during breakfast.  We listened to Michael because his CD was in the CD player.  As we waiting outside for the bus, Whisper looked up at me and said, "The next time I hear ,Remember the Time,' I'm going to dance because it's good to remember and we should be happy when we remember love."
Remember. And dance.
~sheila

Today's tarot card:
King of Pentacles: Ultimate fulfillment, financial security, a life of luxury, determined, stability.
Amazing!
As I was growing up, mediums and psychics were part of my reality.  My grandmother, mother, and aunts made trips to Lilydale Assembly to 'have their fortunes told'.  My sisters and I used to tag along, but were always determined too young to really participate.  I made my last trip when I was 15. I want to go back.
Twenty years later, I learned of a Saturday morning psychic event at a local spiritualist camp, Camp Chesterfield. A friend and I went. I don't remember many details from that initial reading, but I do recall being all but overwhelmed by a feeling of connection with the other women in my family.  I returned for the next Saturday event and the one after that.  In fact, for over a year, I didn't miss one.  I would journal the readings – every time – and notice some impressive themes.  Some, I'll keep to myself for now, but I was told a dozen times, "you should be doing this."  Eventually, I listened and bought a deck of tarot cards.
I've been reading for myself for years now; reading for friends for just a few months less than that.  Every morning, I'll shuffle my deck and draw one card looking for a message for that day.  Sometimes it's a warning, sometimes a gentle push in a direction I wasn't heading in, but sometimes, like today, it's a promise.
I've been moving forward with some great plans for Bats! meow… and I've quite enjoyed this little reminder from the Universe that I'm on the right track.
If you'd like a tarot reading, you can check out my Etsy shop to purchase one.
~sheila