Archive for the 'Media' Category
I was treated to a lovely breakfast – made especially for me by the two wee princesses – as well as a morning of lounging on the sofa and clearing out the DVR. Relaxation… ahh!  The afternoon will be a little more active – well, at least we have to leave the house.  Alek has a lead role in the HJHS production of Willy Wonka, Jr, so we're going to head over to watch and embarass him during curtain call.
Several months ago, his English teacher called to get permission for him to audition.  Because he hadn't mentionned anything about it, I worried that he was just flinging excuses her way to get out of it. Stuck on the phone needing to give an answer while he was at school, I couldn't check with him.  Crossing my fingers, I deflected back to him.  "If he wants to and is sure he can manage his dance and school schedules, we can make it work."  As it turned out, he wanted to do the show, but didn't ask because he thought there was no way to fit it all in.  So… good mama. I hear he's an amazing Candy Man. I can't wait to see the performance.
I could hear whispering and giggling coming from the kitchen as the girls worked together to make eggs, toast, sausage, and tea and solve the problems of the universe [or at least of the little girls in the neighborhood]. Breakfast was served with a vase of flowers and a steamy cup of Earl Gray with bergamot.  Cards and homemade pictures = the best!
All of this means I'm doing something right.  That's not always as evident as it is today, but I did have some really great role models.  My own mother was just short of an angel and her mother was a saint.  I'm sure that's not entirely true; everyone has their faults, but I don't have to focus on that if I don't want to. And I don't. In addition to Mother and Grandma Rounds, I had lovely aunts, cousins, and sisters who have taught [and continue to teach] me a lot.  I am thankful for them daily.  Aunt Lois, Aunt Margie, Judie, Bindy, Penny, and Aimee: Thank you.
Like most women who grew up in an age when the television was as much a member of the family as the humans, I learned from mothers who weren't my own. On my personal FB page and on our fan page, I asked friends to tell me who is their favorite TV mom.
Roseanne was the clear favorite [she makes my list too], with me coming in second [although I insist I don't count since I'm a REAL person]. Tied for third were Peg Bundy and Claire Huxtable. Michelle Duggar [also a real person, so…], Elise Keaton, Kitty Forman, and Sophia Petrillo also pulled in multiple votes. Everyone else on the list drew a single vote. 
The usual suspects appeared: June Cleaver, Caroline Ingalls, Carol Brady, and  Marian Cunningham; yet, no love for Shirley Partridge. 
The not-so-expected appeared: Morticia Addams, Edith Bunker, Olivia Walton, Ann Romano, and Florida Evans.
The modern appeared: Judy Miller, Jill Taylor, Debra Barone, Lorelai Gilmore, and Meredith [Castle].  Honestly, I had to Google most of them.
My personal Top 5 is uniquely me. 
Lorelei Gilmore//Gilmore Girls:
Love her relationship with her daughter. Love her style. Love her wit.  Not only is she a great mama, she'd be a great bestie too.
Roseanne Connor//Roseanne:
I'm sure she made her kids CRAZY – heck I'm glad she's not my mom [or my mother-in-law], but as far as doing and saying the right thing she had it.  Plus, Dan Connor = best TV husband EVER.
Lynette Scavo//Desperate Housewives: Love that attitude. She's always got it under control – even when she doubts herself. She's not afraid to show her vulnerability, but has amazing power to pick herself up.
Claudia Finnerty//Grounded for Life: Surprise after surprise and she's still going.  Those kids are difficult; her husband needs a babysitter.  She holds that family together and does it with style and sass.
Cindy Walsh//Beverly Hills 90210: Umm… does this really need an explanation? Perfect.  Just perfect. 
I see these women as parts of the puzzle designing the the kind of mom I want to be. Someday, I may get there. Probably not. Being a good parent is a work in progress – my expectations keep changing. Because they should.
"Do I know you?"
That question and other similar comments have been incredibly common this past year – at the park, the grocery, at the bank.  Ever since our family was featured on ABC's "Wife Swap," everyone in town seems to recognize us, which can be very interesting.  Most of the time, people are incredibly kind and curious. It's nothing for us to spend an extra 45 minutes [or more!] in a store we just dropped into for an item or two, talking about the show to a friendly stranger.
One aspect that isn't nearly as enjoyable is the idea of being KNOWN to strangers.  Strangers who often refuse to consider the difference between fiction and reality where reality TV is concerned.  "But I saw it on TV," is a common response.  It becomes tiring to explain how not everything was how it appeared.  It becomes tiring to explain, "I did say that, but not in the conversation you think."  It's tiring to explain our parenting choices.
Throughout the month, I'll walk you through my side of the swap. I've asked Eric and the kids to offer up their narratives as well. Friends may guest post.
Post your questions and we'll answer what we can.
~sheila

Several years ago, I read the article "I have seen the future – and it's goth," written by Dave Simpson and published in the Guardian, 21 March 2006. With his impressive Googling skills, Alek helped me find it again a couple days ago. I'd mentionned the findings reported in it to a friend on Facebook and thought it might interest out other readers.
When other adults question us allowing our children to be exposed to a goth lifestyle [and they do], we know we don't share their worries.
That [parents of goths will probably end up boasting about their son/daughter the doctor, lawyer or bank manager] is the surprising finding of Sussex University's Dunja Brill, whose doctorate in media and cultural studies looked at people with funny hair and eyeliner in London, Brighton and Cologne, and who is herself a former goth.
"Most youth subcultures encourage people to drop out of school and do illegal things," she says. "Most goths are well educated, however. They hardly ever drop out and are often the best pupils. The subculture encourages interest in classical education, especially the arts. I'd say goths are more likely to make careers in web design, computer programming … even journalism."
Actually, having been part of the gothic culture for over 15 years [I was exposed to, but not immersed, before that time], I don't think these findings should be surprising at all.  Most of the younger goths I've encountered have been the intellectuals of their time, discussing classic literature and foreign film the way others their age discuss Family Guy or the latest Angelina Jolie movie – not that we never enjoy these things, of course; we're all individuals with individual likes and dislikes.  Even I enjoy the latest offerings of reality TV while reading Oscar Wilde or Ernest Hemingway. 
Speaking with other Goth parents, I'm reassured that our kids aren't the only good students sprouting from the dark soil of our culture.  I suspect it has almost as much to do with the philosophy of parenting as with the natural abilities of the kids.
Our friend David commented on our Facebook wall:
We expect [our daughter] to do well in school so that someday she can get into college and have a career. But, as I explained to her, that is so she can support herself and we don't care what that career may be (although she is leaning toward engineering). We show both by words and actions that character, truthfulness, honor and being true to yourself are the most important things. Some people are obcessed with $ and I wonder how many today are training their daughters to marry a doctor or lawyer.
I hope we can agree that the happiness of an individual should define success more than the pricetag on their home or cars.
~sheila 

Our family isn't typical…
My boys dance.  Eric guest performs. Jordan studied for 7 years. Alek still does. Most recently, he appeared as Harlequin in our local production of the Nutcracker.  He's very talented and we're very proud of him. They began dancing when they were 4 and have worked hard at one of the best studios in the Midwest.  When Ravynn turned 4, the boys came to me concerned. She wanted to take ballet, too, but they worried that it was only for boys [never mind that their classes had always been full of girls].  They were incredibly pleased when we bought a tiny pair of pink ballet shoes.  It wasn't until a minor incident in 4th grade when they felt the bullying effects of being different.  A very kind teacher explained what exactly was the problem with the phrase 'ballerina boy' and it mostly ended. There are still comments flung around, but Alek who's 12 and in 7th grade is strong and ignores them. 
Our family is goth.  Locally, we're semi-famous for it, but you may have noticed from other comments or photos or even the About page associated with this blog.  Eric and I embrace being different, but each of the kids have at points heard rumors or fielded snotty comments based on how we look or dress.  It's a great opportunity to talk to them about stereotypes and prejudice and about not having to conform to make other people happy.  For the most part they get it, but I understand [having been a 10 year old girl once upon a time] that there is still a sting involved.  I hate that.  At the same time they love when their friends think we're cool because of the way we dress or the music we listen to.  I kinda like being famous at the elementary school, but not to the detriment of my kids.
When I read news stories about bullied kids or hear about it from fellow moms, my heart aches.  No child should have an unhappy childhood.  I mean there are some situations that cannot be avoided and the pain of them cannot be minimized, but… if the pain is caused by other kids or adults being hateful and unaccepting.  Well, the simple fact is that should be easy to change.
Several weeks ago, a Facebook post brought my attention to the blog, Portrait of an Adoption. Young Katie was being teased for wanting to carry a Star Wars water bottle to school.  Three cheers for social networking.  Geek Girls came out in force to support Katie. As I understand, Geeks, Nerds, and Dorks all came out to support her and give her strength.  I think this is awesome!  It's what I've tried to teach my own kids.  Differences should be Celebrated. Sometimes they are, as with Katie's situation.
Checking on Portrait of an Adoption, I read the story of author Cheryl Kilodavis and her book My Princess Boy. Her website explains it as:
My Princess Boy is a nonfiction picture book about acceptance. It tells the tale of a 4-year-old boy who happily expresses his authentic self by enjoying "traditional girl" things like jewelry, sparkles or anything pink. It is designed to start and continue a dialogue about unconditional friendship and teaches children — and adults — how to accept and support children for who they are and how they wish to look.
The response she is getting isn't near as positive as Katie's mother found for her.  Now, it isn't all negative and maybe I"m experiencing emotional reactions to the negative comments that I do see.  I've been in the same place. People have, over the years, explained to me that it's not 'normal' for boys to study dance or to have long hair [Eric does and Alek did until he cut and donated it in the summer of 2009]; I've been told that it's not normal for them to do these things because society believes them to be 'for girls'.  Somehow along the line it became acceptable for girls to want to do 'boy things', yet not for boys to want to do 'girl things'.  I suggest we let kids do kid things and leave it at that.
I've fought the good fight for my kids. Cheryl is fighting for hers.
I encourage you to honor acceptance for everyone and embrace diversity in your own life today.

I found this article today while searching for documentation on the Victorian custom of cemetery picnics.  These statues are favorites of ours and we often leave flowers with them on our visits.
The Statues — Their Story

Children's graves are the saddest in any cemetery, but especially on twilight days like these when cold keeps visitors away.

Maybe it is their small size, tombstones only half grown, or the small spans of their dates, speaking of life unlived.

Most often they are smaller and more simple than the markers around them, small and simple like those they remember.

But more than 100 years ago, when George Hilligoss' only two children died within six years of each other, small and simple was not enough. He required a monument as elaborate as his grief.

That monument still stands today looking out of West Maplewood Cemetery in Anderson toward the traffic of Grand Avenue, two statues of white Italian marble on a shared pedestal. Life-sized replicas of Hilligoss' children.

Charlie Ingersoll Hilligoss is portrayed as the 16-year-old he was when he died. He stands with his elbow leaning against a stone pillar and wears a suit, coat buttoned as if against the cold. He holds his hat in his hand.

His sister, 6-year-old Gertrude Pauline Hilligoss is seated close enough for him to touch with a book and a bundle of stone roses in her lap.  Water drips from the edge of her stone skirt.

The passage of 100 [years] has antiquated their clothing.  A hundred winters of snow and rain has worn the carving of their names and the message underneath: "We know that life is all the sweeter that they lived. And death is all the brighter that they died."

But 100 [years] has yet to dull that universal pang, that grief for lost children. Maybe it is that, besides their lovely white faces among the anonymous tombstones and obelisks, that interests passersby.

Maybe that is why, though they are not known to have any living relatives, brightly colored bouquets of flowers appear in heir hands with each change of the seasons.

The late RE Hensley, once president of the Madison County Historical Society, was one person who found his curiosity piqued by the melancholy likenesses of the two children.

In 1975, while cataloging the names on the cemetery tombstones, he took it upon himself to find out who they were. What he uncovered fit on one side of a typed sheet of paper.

George Hilligoss, Charlie and Gertrude's father, was a doctor who practiced in the Madison County are for 30 years, for some time owning an office on Anderson's Main Street. An Indiana native, he was one of the county's original settlers and a veteran of the Civil War before becoming a prominent Anderson resident.

He and his Prussia-born wife Caroline had a son, Charlie, in 1871, and a daughter, Gertrude, in 1875. An article published much later in an 1892 edition of the Anderson Democrat, detailing the arrival of the children's monuments from Italy, call the two the pride of their parents. "The children were exceptionally precocious and possessed mental strength that was far beyond their years," it said.

Gertrude died first in 1881, then Charlie in 1887. Their causes of death are unknown.

"I think the children had died of some kind of disease," says Donna Nicely, a secretary at the Maplewood Cemetery office, but no one knows for sure. Cemetery records which would have held that information were lost in a fire more than 50 years ago.

Whatever the causes of their deathes, it can be assumed they were blows to the two parents, suddenly childless.  In his short account, Hensley writes, "It has been said that the deaths of Charles and Gertrude weighed very heavily on both Dr. and Mrs. Hilligoss and that she could never reconcile herself to the fact that they were dead."

Hensley goes on to say that George Hilligoss was the first president of Camp Chesterfield, the spiritualist camp founded in 1886, a year that falls between the deaths of Gertrude and Charlie.

Whether or not the loss of his children stirred his interest in a spirit world can only be guessed. Probably no one know sif a bereaved George and Caroline tried to reach their children beyond the grave.

What is known is that they were desperate to have their children remembered on earth. The Anderson Democrat article says that the couple conceived the idea of having the statues made shortly after the deaths. They found a sculptor in Florence, Italy, and sent him two life-size photographs of Charlie and Gertrude to work from.

It took three or four years for the work to be completed. For several months, the Italian sculptor refused to finish the statues, in protest of a highly publicized incident in New Orleans in which some Italians were lynched.  But friends intervened and he did eventually ship the completed works, in 1892, to Indianapolis.

More than a century later, local history buffs have not been the only ones to be curious about the cemetery monuments.  "Every once in a while we get calls on the Hilligoss children," says Phyllis Leedon, a librarian at the public library in Anderson. "As far as I know, there's no family."

Nicely says the cemetery office also receives calls periodically from people curious about the identities of the two children. She has felt a twinge of it herself, driving by them everyday on her way to work.

"Oh, I think they're beautiful," she says. "For many years, they've had some kind of significance."

Especially to children, it seems. Nicely has heard the spook stories some tell about the two statues changing positions. Sometimes, it is said, Charlie's hand rests on Gertrude's shoulder, sometimes at his side.

There is something strange about their ghostly forms, luminous in the long shadows of ware winter trees, and something sad about the melting snow lying on Gertrude's lap, on Charlie's shoulders. Only the latest in a century of snows.

"But fate had ordained that they should live only in memory," the newspaper article says. The statues demand at least that much, causing strangers to pause and pity, to wonder about the two lost children just as their father must have after they were gone.

Perhaps it would please him, even though, he is gone now too, buried next to them.

–Steffen, Colleen. "The Statues — Their Story." Anderson Herald Bulletin 31 Dec. 1996: A1+. Print.
The Indiana Memory Collection website states, "An iron fence once surrounded them, but it was taken during WWII for scrap metal."
Don't we all hope to be loved so much?  And if we do love someone else so much, shouldn't we tell them?
Now, back to my regularly scheduled research.
~sheila

Every so often, people bug me.  Really really bug me.
Earlier this week, my family was contacted to appear in a commercial for the Indianapolis affiliate of  FOX Broadcasting.  We were happy to accept as Fox 59 runs our favorite morning news show and time in front of the camera is good publicity for Bats! meow…, even if the link isn't always immediately clear.
I commented to them that our family is goth and has been promoting a business and that we've got a story coming up in the local paper because of our style.  At this point, I asked him what were the rules for clothing while working with a green screen and, keeping our look in mind, did he want 'dressed to the nines' or 'everyday' wear.  I had anticipated a 'to the nines' request because it would show diversity and we'd be more recognizable.  At the same time, I could understand if he wanted a more everyday look because you don't honestly see a lot of people in Indy who look like us.
His response shocked and annoyed me:
No greens or near-greens (we will be shooting against the greenscreen).

I'd say steer clear of the Goth look.  We're going for middle-of-the-road appeal.  If this is a problem, let me know.

Thanks!

-A
Steer clear? Really??
I responded:
Thanks for the offer to have us in the commercial, but we'll have to withdraw.  We ARE a goth family and don't wish to represent ourselves as "characters" for the commercial. I know we told you we'll be appearing in the Anderson paper and were contacted for that because of our goth lifestyle and to promote the goth clothing company we own.  Showing up looking 'middle of the road' would likely discredit us.
If we had been cast as actors in the commercial, fine. But they wanted real viewers to say the real things they like about the station.  We love them; we were ready. But this really turned me off.  The suggestion that all of their viewers look 'normal' or that anything off the beaten path won't have the impact that they're looking for confused me.
I'm really disappointed.
~sheila

I cannot tell you how excited I am for this movie.
Watch the trailer; it will touch your heart.  I'll certainly post about it again with more information.
I find a ton of really cool offers and information at BzzAgent; I'm registered there as 'monstermommy'.
~sheila

My friend, Lady Euphoria, who blogs at Thoughts from an eclectic goth mind, sent a kind email this morning to let us know about a fuss caused by our Gothic Christening Gown. It seems the mommy blogger over at MomLogic found our little dress slightly upsetting.  At least that was the tone I gleaned from her post.  Never sure if the way I'm reading something is the way I should [emotions and intent often disappear online], I had a few friends check in.  Most of them agreed that the review wasn't favorable, but one pointed out that we were categorized under 'weird & fun'.  I suspect we fell specifically under 'weird', but there is a chance she was enjoying the creativity in the design and intended the '& fun'. Maybe?
Click the link, see what you think…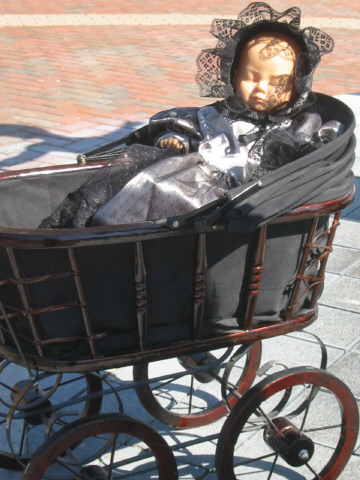 I did consider that this wasn't an entirely mocking blog post, but the 'funnies' she included are the standard points made by anyone who has a real problem with us and the way we raise our kids.  The question of what will we do when the girls rebel and want to wear pink…  while I'm not a fan of pink, I don't think it's the symbol of my worst fears concerning my children – unlike what many of them seem to believe about the color black.
I absolutely LOVE this design.  I love making it, packing it, shipping it; I love knowing babies will be wearing it.  Heck, I even liked dressing up the non-creepy little doll and doing the photoshoot in the park.  I'm quite proud of it and the matching bonnet and have decided to enjoy this unintended promotion.
Thanks MomLogic!
EDIT: I should note that I don't judge people who choose normal to be bad or inadequate; normal simply isn't what I choose for my family 🙂

Today has been a busy day. A very busy day.
While I was able to sleep in some [and planned to do it], I slept much too long and had to rush to get Alek to dance class on time.  He's a drop-and-go kid, so after the quick drive over, I ran back home. I should have gone straight to the sewing studio and got to work, but I planned on a relaxing late afternoon. So I sat down and watched a couple episodes of a cartoon I really dislike with the other kids.  Before I knew it, it was time to head back to pick him up. Woops!
It should have been another quick trip over and back, but I think Alek stopped to talk to every last person in the building before coming out to the car.  His social nature isn't usually a problem to our schedule, but I didn't work that many extra minutes into the morning.  Back home and it was time to wake up Eric for another drive back to the dance studio. Somewhere in the hour that I was at home, I started to wonder about myself.  Aren't Saturdays supposed to be quiet?
Maybe they are, but today we were helpers.  The studio where the kids take classes had scheduled a cleaning day for the props and costumes room.  Ravynn's teacher had asked me on Tuesday to come and help out and I talked Eric into joining me.  Alek, because he is moving on up in the class hierarchy, decided he should go and help too. Besides, there was the promise of picking up discarded loot.
The session was scheduled from 1-4.  We arrived about 20 minutes early and worked hard. My phone rang a couple times while the kids checked in from home, but it was early.  When we stopped long enough for a rest and to gather our finds into a neat bundle that was out of the way, I checked my phone for the time – almost 5!  So we said our goodbyes and headed home.  Within the next few days, I'll try to photograph some of the wonderful items we picked up.  Eric will use them in his paintings and I'll use them in one-of-a-kind fashion designs.  Alek even got some fun things for himself.
When I got  home, I realized that three of us hadn't had lunch yet and it was time for dinner.
I kind of copped out on cooking for the kids and made fish planks, a box of microwave noodles with cheese sauce, and canned peas.  I desperately need to go to the grocery, so I had to get creative for Eric and I.  I sat down with my BH&G cookbook and started flipping through pages, determined to make the first thing I had all the ingredients for.  It could have gone bad. Luckily, this cookbook starts with an appetizer section.  I was overjoyed to find out I could make Coconut Shrimp -and- that they were easy and low-fat.  Ravynn and I went to work while the fish baked. I really like cooking with her and it appears she likes cooking with her mama too.
After dinner, we sat down to watch a documentary from the History channel about death masks. I was amazed by how interested the kids were, but also happy that it led to some interesting conversations about President Lincoln, Napoleon, and John Dillinger.  Just another reminder that MY KIDS ARE AWESOME!  After that, the boys asked for a movie, so we had them pick – Zombies Anonymous was their choice.  It was a decent movie, but nothing I'll watch everyday.  I liked the angle they took on the zombie/human relationship.
The boys retreated to their room for another movie while the girls asked if they could stay up. Sure, but we need to turn off all the lights so it's spooky 🙂  Agreed. Someone chose the movie P2, which stars the movie-making kid from American Beauty.  Whisper zonked on the sofa about half an hour in, but Ravynn is loving this movie.  She's our little night owl and is very proud of that fact. This movie is much better, but has had one or two questionable scenes/events.  I can forgive them; it's tying together pretty well.  We'll see how it ends.
Despite the fact that I've accomplished nothing, it's been a really good day.  I hope for more just like it in the future.
~sheila