Posts Tagged 'education'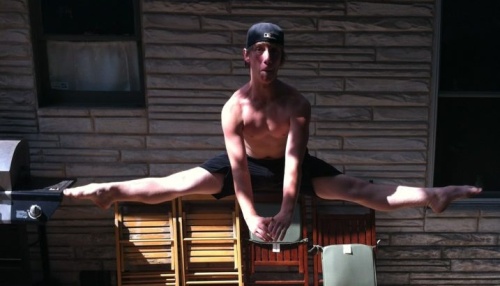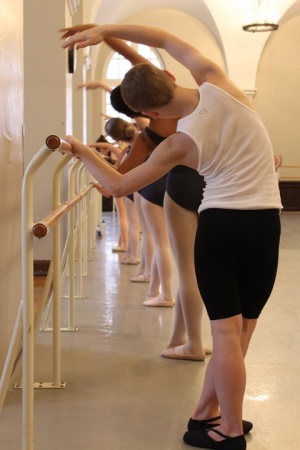 The kids [all four of them] started dancing when they were 3, because we have a love and respect for the arts.  Eric and I both danced with the local dance company when were in college as extras in the Nutcracker ballet and promised way back when that when we had children we would give them the gift of dance.  When the first two kids were boys, that didn't stop us.  Despite the feedback we've gotten from friends and strangers, we encouraged them.  For a while, we restricted the input the kids had in the matter, deciding that it was our decision until they reached a certain age. 
When Jordan was 12, he decided that he was done.  Thankfully, I talked him back into a role as an extra in last year's Nutcracker ballet.  His Wife Swap mom would have been horrified [that pleases me].  When Alek was 11, he had to do some thinking.  That same Wife Swap mom was encouraging him to walk away.  He may have entertained that idea, but was reminded that at that age he wasn't free to make that decision.  Sometime within the next year, he decided to kick his study into gear and made some progress – enough that last December the opportunity was presented to audition for a summer intensive in Houston.  He did. He was accepted.  He returned on Saturday – a very exciting day for this mama.  I haven't had a chance to see him dance, but I've heard of the exciting progress he's made during these classes.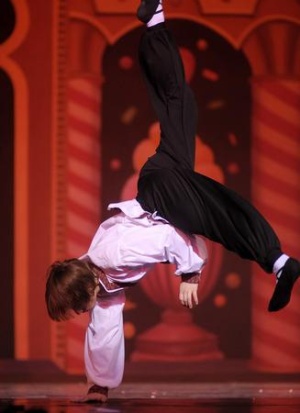 Despite our love of the arts and our kids' interest in dance, we've had to defend this decision more than any parent should. Seriously, we appreciate the arts and we prefer to encourage the kids toward dance, art, and music – just like other parents would encourage their kids toward sports.  Do the same people question them?  Probably not. As if "we're the parents and we make that decision" isn't enough, we have also seen several research studies that cite the effect of dance on education and test scores. 
At Suite101, Anna Mayer writes, "Studies show that dance in school leads to high grades and SAT scores. Dance lessons increase mental skill and deepen kids' understanding of other subjects."  She notes a documented effect of dance instruction on reading skills, SAT scores, and GPA [in one study, the dancers' overall Grade Point Average was 3.22, while the non-dancer group averaged a 2.87].
http://suite101.com/article/dance-in-school–smart-kids-high-grades-and-high-sat-scores-a374077
http://ezinearticles.com/?Dance-Classes-Improve-Test-Scores-and-More&id=6099064
Acker, Kerry. Everything You Need to Know About The Goth Scene. New York: The Rosen Publishing Group, 2000.
---
On a recent trip to the library, the girls and I picked out some summer reading books for them and their brothers.  They're not what most people would consider.  Jordan wants to teach himself Calculus; Alek wants to review Algebra; Ravynn wants to teach herself Algebra; and Whisper just wants to get ready for 4th grade.
With the idea of reading and reviewing some books on Goth culture – just to see what information is being presented to the non-Goth public – I did a quick search while we were there.  Being that we live in a town of 56,000, I didn't expect to find much.  I was excited and surprised to find four titles listed.  I went to find them.  three were available and one has been either lost or stolen [of course, that's the one I'm most interested in reading].
I'm a working mama with a busy schedule, four kids, a full-time job, and a home business, so I did plan to start with the smallest book.  As I pulled out the Everything you Need to Know title, I was tempted to put it right back.  My problem with it?  Quite simply, the cover.  I couldn't imagine a book that offered that image as the representation of the Goth culture  would provide any useful information – and I fully expected to be annoyed with what it did provide.  Now, I know the cover model could be a lovely young woman with a charming outlook on life, but when I look at her, I see one thing – ROOTS!! While I try not to overgenarlize or stereotype, Goths are a people typically drawn to beauty and border on the vain.  Many of the Goths I know (the husband included) wear their vanity as a badge – that photo doesn't fly.
But that photo wouldn't keep everyone from reading it, so we popped into Panera, ordered iced acai teas, and started reading.  Actually, we finished reading too. The book is 65 pages long.  Minus 9 pages of introduction and 21 pages of lists, glossary, index, and reading lests at the end of the book, it totals 35 pages.  Ravynn and Whisper were with me and were pretty entertained with what I was reading to them.  Of course there was a lot I had to explain. Starting with:
The Introduction:  I had to keep reminding myself that the pub date on the title is 2000 and there is a lot of information that was assumed truth at that date that isn't so much anymore.  The focus of the intro is on the shootings at Columbine High school and how just because those Goths were bad and dangerous doesn't mean that all of us are.  I wanted a reminder that although they were described as Goth by one witness, that it's not so much true, but it didn't come.  The most helpful bit in the introduction is where Acker writes, "People judge Goths based on their clothing tastes and their appearance, instead of getting to know them by talking with them, hearing their ideas, and trying to find things in common with them."  This is true. I've lived it.  The introduction also explains why I believe the book failed: It confuses explaining the Goth scene with explaining Goths.  Phrases like, "some Goths," or "many Goths" put me on edge.  While explaining what draws some individuals to the culture is helpful and refreshing, explaining the "kinds of people" who are drawn to it isn't. 
Chapter 1/The Origins of Goth:  Blah, blah, blah.  The first half of the chapter focuses on historical Goths and their invasion of Rome.  While this is commonly covered in articles on the culture, I fail to see its relevance.  What Acker refers to as "Contemporary Goth" is what she means to explain. 
Bauhaus's "Bela Lugosi's Dead" is often marked as the begining of Goth music.  I don't know if it's true, but it sounds good and I do adore Peter Murphy.  Acker discusses how Goth bands influenced the "look" associated with the Goth culture [black clothes, black hair, pale skin].  Most of the discussion on the culture focuses on the music, but does touch on what we have tried to explain to anyone who asks or expresses interest [especially the Wife Swap producers!]: "Goths wanted to experience emotions, good and bad, because they are an essential part of being human… Goths also established a different idea of beauty — a new aesthetic."
See Part 2.
Should have posted this yesterday, but I used that as a catch up day. Very excited to be back on track 🙂
WEEK 6, YEAR 1
---
Day 35 was hard 🙁  We took Alek to the airport to send him off for a 3-week dance intensive.  The longest I've been away from any of my kids has been an almost 1-week visit with their grandmother.  Needless to say, "mama's freakin' out!!"
---
Fathers Day Dinner.  Seared scallops with wilted Asian slaw. The kids told me they as good as Chef Ramsey's.  Haha!  As long as no one calls me a stupid donkey, we're good.
---
In my world, dragonflies = faeries.  This one landed on me an then was kind enough to pose for a picture.
---
Pretty girls.  We stopped by the park after dance camp and played in the water.  Does my heart good when sisters are friends.
---
Yeah!!!  My girls are learning something from Winnie Cooper 🙂  We picked up the 'middle school' book for Ravynn. She read it in two days and said that it was a "nice review".  She's now moved on to a pre-algebra workbook. 
---
Girls night! Ravynn did my hair in a fishtail braid that she learned from her new American Girl magazine.
---
Also from American Girl magazine… a poster the girls are coloring together.

Several years ago, I read the article "I have seen the future – and it's goth," written by Dave Simpson and published in the Guardian, 21 March 2006. With his impressive Googling skills, Alek helped me find it again a couple days ago. I'd mentionned the findings reported in it to a friend on Facebook and thought it might interest out other readers.
When other adults question us allowing our children to be exposed to a goth lifestyle [and they do], we know we don't share their worries.
That [parents of goths will probably end up boasting about their son/daughter the doctor, lawyer or bank manager] is the surprising finding of Sussex University's Dunja Brill, whose doctorate in media and cultural studies looked at people with funny hair and eyeliner in London, Brighton and Cologne, and who is herself a former goth.
"Most youth subcultures encourage people to drop out of school and do illegal things," she says. "Most goths are well educated, however. They hardly ever drop out and are often the best pupils. The subculture encourages interest in classical education, especially the arts. I'd say goths are more likely to make careers in web design, computer programming … even journalism."
Actually, having been part of the gothic culture for over 15 years [I was exposed to, but not immersed, before that time], I don't think these findings should be surprising at all.  Most of the younger goths I've encountered have been the intellectuals of their time, discussing classic literature and foreign film the way others their age discuss Family Guy or the latest Angelina Jolie movie – not that we never enjoy these things, of course; we're all individuals with individual likes and dislikes.  Even I enjoy the latest offerings of reality TV while reading Oscar Wilde or Ernest Hemingway. 
Speaking with other Goth parents, I'm reassured that our kids aren't the only good students sprouting from the dark soil of our culture.  I suspect it has almost as much to do with the philosophy of parenting as with the natural abilities of the kids.
Our friend David commented on our Facebook wall:
We expect [our daughter] to do well in school so that someday she can get into college and have a career. But, as I explained to her, that is so she can support herself and we don't care what that career may be (although she is leaning toward engineering). We show both by words and actions that character, truthfulness, honor and being true to yourself are the most important things. Some people are obcessed with $ and I wonder how many today are training their daughters to marry a doctor or lawyer.
I hope we can agree that the happiness of an individual should define success more than the pricetag on their home or cars.
~sheila 
The other night, Neil Gaiman spoke at the McFadden Memorial Lecture at North Central High School in Indianapolis. He was charming and entertaining. More than that, he was inspiring.  He read stories he'd written [one only a few weeks ago that I MUST own if it's ever in print] and shared bits of his life with his father and his daughter.
We sat at almost the back of the auditorium, but on the aisle closest to where the podium was set up, so we got some amazing photos. I was surprised that although an animated speaker, the photos just don't show it – and I took A LOT of them.
I did learn, even though I've heard the same advice a thousand times, that the best way to write is just to write. To get it down on paper and to edit it later. Honestly, I know that about writing, but something about the way he said it, made it relevant to the other areas of my life – design and parenting and being Sheila, among other things.  So I left with a new motivation to sew.  Yeah!
At one point, I had the distinct feeling that I was watching Peter Pan, after he learned those incredible storytelling techniques from Wendy.  Fascinated by the shadow he cast, I snapped this photo.
I think it's my favorite 🙂

Although we started this morning with news that EVERY school in the area was not just on a 2-hour delay [those are so common we don't even celebrate them], but was closed, my four monsters were loaded into the van for a trip across town to the dentist.  At 8am.  I suspect I'm a bad mother, wasting a perfectly good snow day in that manner.  I issued reminders for them to bring any homework they hadn't finished the night before OR a book OR some game device.  They complied and we were early.
I also was a good little student and grabbed a stack of books I picked up at the library last night.  Just a few on different ideas for kid's clothing – sewing, knitting, crocheting.  I found some great ideas for hats and dresses – even some dolls 🙂
The most exciting information in any of the three books I had time to browse through during the cleanings was found in an appendix, included like an afterthought, was a brief tutorial on freezer paper stencils.
There is a project that's been bouncing around my brain for several years that I couldn't quite figure out how to make work.  But this new information brings me so much closer.  Also found today is this photo from iStock that should help as well.
I'll need to make some changes, but it's great inspiration.
Now, if only I can make this work.  I feel good about it.  More to come.
~sheila