Posts Tagged 'dresses'
I go through phases with the Oscars.  Either I watch every moment from the very first mention of the red carpet hours before the actual event or I read about the awards the next morning over my coffee.  Typically my interest level is directly related to how much I love the movies up for awards. This year… I don't believe I've seen more than a handful of the movies and have little interest in watching many of the others.  My family is, quite honestly, disgusted with my apathy toward Argo, Les Mis, and Life of Pi…  They are likewise disturbed by my great need to own Lincoln and Django without seeing more than a brief preview.
I found a great pleasure this year in watching the red carpet with Ravynn and Whisper and choosing our favorite dresses.  Here are our top 5 favorites.  In order, no less…
#5.  Amy Adams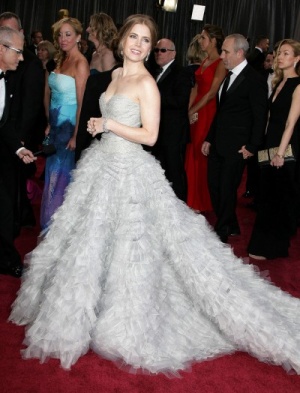 #4. Charlize Theron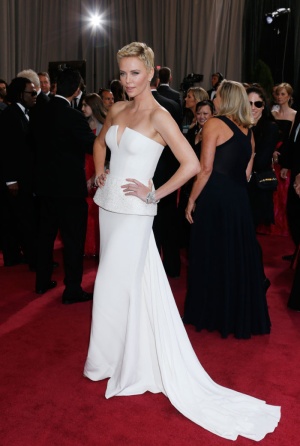 #3. Reese Witherspoon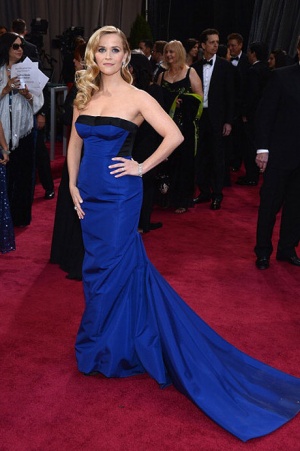 #2. Stacy Keibler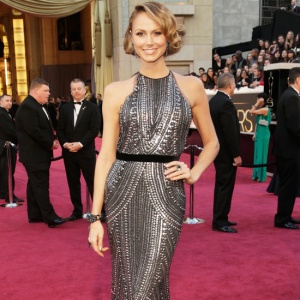 #1. Kristin Chenoweth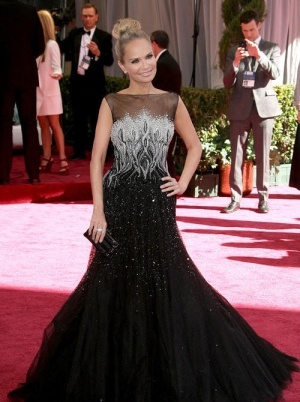 No, I wouldn't WEAR all of them, but they are beautiful.
Jordan and I were out today returning DVDs to the library and getting milk so the kids would have some for breakfast in the morning.  While out, we spent some time discussing the Neil Gaiman lecture yesterday, just checking in to see what we each really got out of it now that we've had some time to let it soak into our squishy little brains.  Not surprisingly, we focussed on the same bits – the "just write it" advice directed to an aspiring writer over on the right.  Jordan is working on a novel and needs to get past a sticky point; I need to sketch, plan, and sew. Bats! meow… needs new designs.  So the advice applies to both of us.  In order to help myself, I decided to take a quick tour of some of the nicer kids departments in town.  Keep in mind that in our small town [about 40,000 people], there aren't a ton of high-end stores and what is considered high-end here, probably isn't in any larger town.
That being said, I love small-town living 🙂
We ran to the mall and strolled through two stores.  I believe that was all that was available, but it was all we wanted to take time for too – the milk was in the trunk!  One thing that struck me was how much styles haven't changed since I was a little girl.  I said a dozen times, 'I had this same dress when I was little.'  The styles were the same – even the colors.  One shop [the nicer of the two] had racks upon racks of red, white, and blue clothes.  Even as a 7 year old in 1976, I wasn't loving that…  This is me in 1972 [I'm in the blue dress] with my parents and younger sister.
It gave me hope though. I mean the styles running around in my head are the ones I'm seeing on the racks – and clearly they don't change that much or that fast that I'll lose the window before I complete the project.  I'm on track!!
Look for more soon.
🙂

I have great plans for new items for Bats! meow… I also have great hope that the time I need to draft the patterns and sew some samples will just appear in my life.
First up are a couple of new dresses or, maybe skirt and top sets.  The way this usually works is I determine what my girls want and then sew for them.  If the design is a success [as determined by the ooos and aaahs of the 6- and 7-years old girls  in the house and in the neighborhood], we'll photograph, do the price workups [cost versus profit], create the web listing, and work on alternate size options – not necessarily in that order.
Next up are a set of rag dolls.  Or something of that nature.  I'm super excited about this.  When I was a little girl, all of my baby dolls [and I had a LOT of baby dolls with ALL the accessories] were little blonde things with bobbed hair.  They didn't look anything like their mama.  Even the baby dolls in our house are 90% blondes. I do believe it's time to expand the market to include more of the 'looks like me' variety.  Of course, there is more in the plans than just brown hair and grey eyes.  I'll share more as soon as something has been sewn and stuffed. I'm really looking forward to this!
Finally, I want to incorporate my love of quilting into our designs.  More housewares, some quilts for babies, even some pillows for bigger kids and adults.  But not just any design will do – we'll need something special, so more designing on real life graph paper.
So much to do.  Such great plans.  But time, again, is the enemy.
~sheila