Posts Tagged 'kids running wild'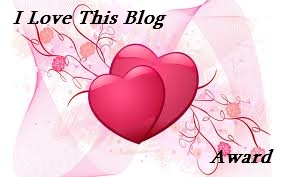 Sadly, I don't have as much time as I'd like to read other blogs.  There are a few that I wouldn't dream of missing – even if I do play catch up every 2 or three days.  I wanted to take this time to award them the "I Love This Blog" Award and encourage them to keep going!!
---
Kids Running Wild was created by my cousin, Rhonda.  We had tons of sleepovers when we were little and she played piano at my wedding, but we hadn't talked for years before we found each other on Facebook.  While I'm not a runner [and don't expect I ever will be], I love the tips she gives for getting and keeping kids active.  I'm also a big fan of her feature, "What I Ate Wednesday." 🙂
---
Kate SeRine is a friend I've known for many years.  She worked with Eric and then a few years later, we all worked together for a different employer.  My kids call her aunt and her kids call me aunt.  We're family.  I love so much to watch her success and to KNOW how deserved every bit of it is.  I've read the first book in her Transplanted Tales series and I highly recommend it.  Looking forward to reading the rest of the series [and anything else she sends our way].
---
b'longa'b is another cousin of mine. I met her only a few times in our young lives, but we connected really over [you guessed it] Facebook.  We did have a chance to meet for lunch once – that lunch lasted over 7 hours because of how much we had to say to each other.  Her blog is an extension of that conversation.  I laugh, I empathize, and most of all I learn about her and about ME.
---