Archive for the 'Daily Life' Category
One of my goals for the 101 in 1001 Project is to complete the 365 Project – to snap one photo a day for 365 days. I'd started this last year and did very well, but fell off track when Eric took the camera to Burning Man in August.
Here we are. Starting again.
My children cook. All of them. And they're very good – and careful. I don't worry about them burning down my house or seriously hurting themselves. I don't want the burns or minor cuts, but I do see these small injuries as unavoidable steps in learning.  I'm impressed with their technical skill, but even more that they're not afraid to experiment.
Jordan has been cooking for years. He started with mac & cheese out of a box and move d to excel in home ec [technically it's now called Family and Consumer Sciences, but to me… always home ec]. Now he prefers to specialize in soup, which is great. He makes excellent soup and I do not.
Alek never showed great interest in the kitchen until this past Christmas break when he wanted to eat thing we just didn't have in the house. After a couple minutes on Google, he hunted down a recipe for tortilla shells, so he could have burritos. They were amazing.  With boosted confidence, he found a recipe for a from-scratch cake. Also amazing.  I hope this confidence and skill will continue to grow.  After the cookies he made for the Super Bowl, I feel good about the odds.
Ravynn is at a weird stage. She started baking in her Easy Bake Oven several years ago and became a master.  It wasn't until the bulb broke and we weren't able to replace it right away that we realized she should just be using the real oven.
Whisper skipped the easy bake and instead focused on the stove and anything she could put over noodles. It's fairly common to see her pulling random items from cupboards, fridge, or freezer to fry them up in a big pan and pour over steamy pasta.
They're all very handy and willing to help when mama needs some time away from the kitchen.  They're also very kind when I want help. Growing up, I always saw a woman's kitchen as her kingdom/refuge and I resisted anyone else stepping in. This has hurt more than a few feelings.  Now that the monsters are the ones stepping, I realize – too many cooks don't spoil the soup; too many cooks make superior soup.
But, what's "too many" anyway?
Outside of treating other people right and doing your weekly/daily chores, we don't have many rules in our house. Respect for each other, respect for your self, respect for your home. Those seem to cover most situations.
Bedtimes, meal times, and curfews change almost daily, but one rule we do follow [and this could easily fall under "respect for yourself"] is that the kids must read before they mess with anything electronic. We're pretty lax as far as TV is concerned, but games, computers, and iPods are pretty strictly enforced.  That's not always easy with all of it being so portable, but we try.  The biggest challenge is Ravynn's Nook since it's a book and games all at the same time. At least she's my most interested reader, so chances are good.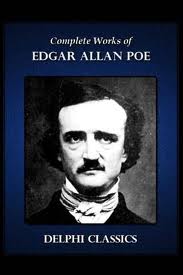 Currently, Ravynn is reading through the works of Edgar Allen Poe, starting with his poems. After every one, we talk about it – the story of it and if she liked it.  She's started rolling her eyes, "it's about some girl he's in love with."  I think she feels bad for him.
Whisper is preparing for her first book report. The book she chose is "Edgar and Ellen: Under Ground."  Quite honestly, I'm surprised her teacher approved it as it's well below her reading level. That may encourage her as she can read it quickly and not worry about missing anything while finishing by her due date.  They're also reading another novel in class, so less chance for confusion.
Alek is taking a break from books because his schedule just doesn't accommodate it.  I know. I said it was a rule, but even with 20+ hours of dance each week, he's carrying a 4.01 GPA. When he's off to Houston, I'll be sure to set him up with several books for his flight and any layovers.
Jordan is between books also, but he's working through a college prep list, so I suspect he needs me to dive into the boxes in the garage to find one of the books we already have.  Guess mama has a project.
Trying to set a good example, I'm attempting to read more myself. One of the 101 in 1001 Goals is to read the "Modern Library Top 100".
Now, where to start??
One of my goals for the 101 in 1001 Project is to complete the 365 Project – to snap one photo a day for 365 days. I'd started this last year and did very well, but fell off track when Eric took the camera to Burning Man in August.
Here we are. Starting again.
Recently, I shared a link on my personal Facebook page about an Indiana lawmaker who wants to bring the Lord's Prayer back into public schools.  My friends fall solidly on both sides of that issue, so debate in the comments was running a little hot.  I see no problem with allowing anyone a few moments of quiet at the start of their day. I take it at work to get settled, but no one is telling me to pray or insisting that I pray a specific prayer.  And THAT is my problem with the proposed legislation.  Reciting the Lord's Prayer alienates anyone who isn't Christian and, depending on the version recited, can further alienate either Protestants or Catholics. As much as parents and school administrators work to combat bullying, we cannot allow it on the state level.  Plus, there is that whole separation of church and state thing and it seems this would fall dangerously close to a religion being chosen, endorsed, and mandated.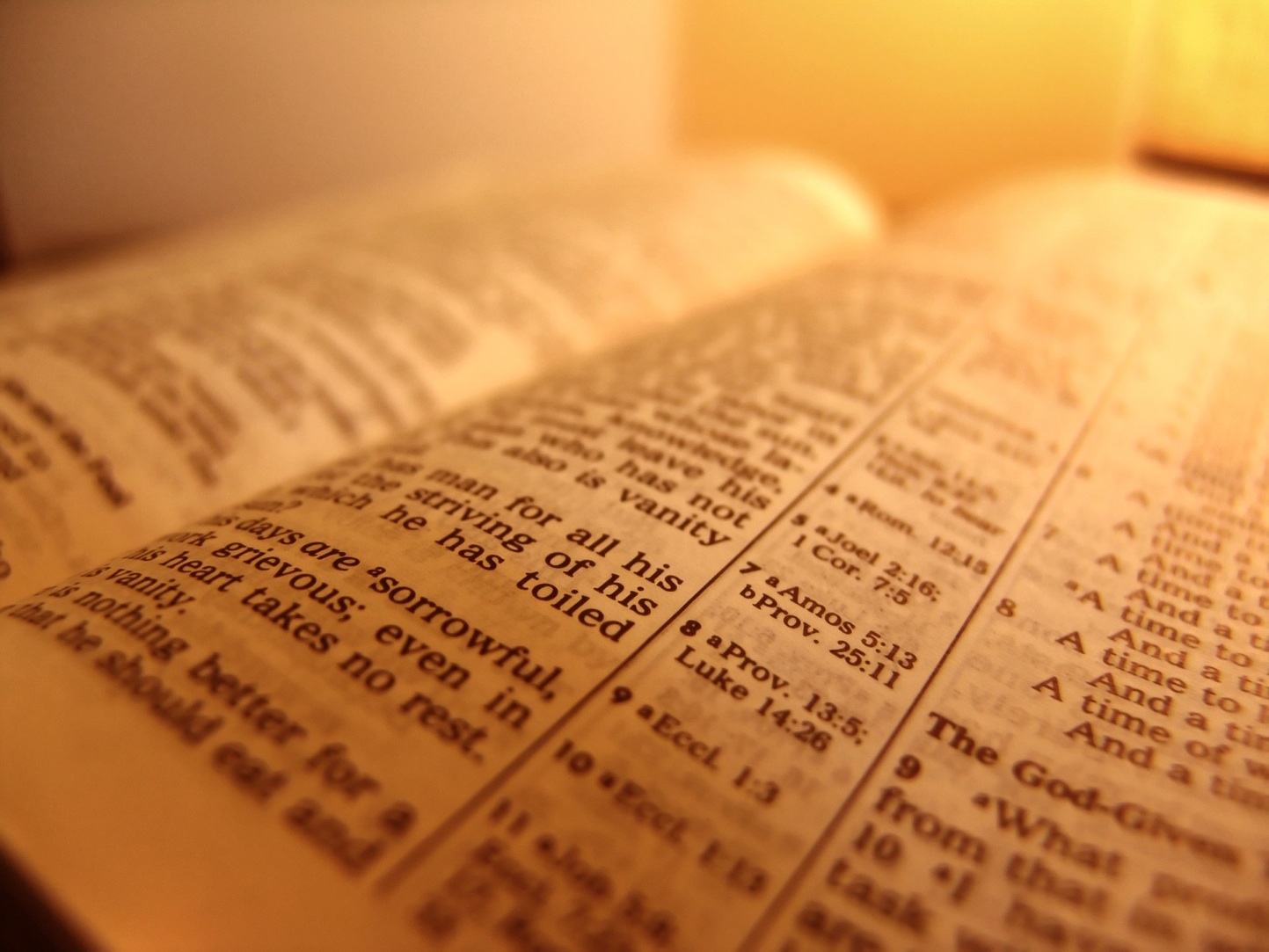 During the fiery discussion that followed, Eric brought up the AWRE program. Anderson Weekday Religious Education.  This is a program where fourth graders are bussed from Anderson Community Schools to a local church to "introduce your child to the Bible, Christian principles, and character traits through Bible lessons."  We have teacher friends insisting they'd never heard of the program and that it could not possibly exist in Anderson.  Whisper is our fourth fourth-grader.  We've very familiar with the program and with our reservations about it.
If parents want their kids to attend church, there are ample opportunities outside of school time.
I'm incredibly uncomfortable that my daughter's personal information was provided to an outside group – and no one can tell me if the involved parties have undergone background checks. I cannot attend a field trip with the class if I haven't had one.
Anderson Community Schools does not impress anyone with its test scores or graduation rates.  Kids need to be in school when they can and we're doing a disservice by pulling them out of class.
There has been no plan set in place to deal with the kids whose parents decline this opportunity. Ravynn's 4th grade year, she was one of two students who stayed behind. She spent that time each week coloring.  Really.
When I called the AWRE coordinator in 2011, I was told they were restricted to non-teaching time for this event.  It didn't seem possible that every fourth grade class had a full hour [plus, if we account for drive time] of non-teaching time available – let alone at the same time.  When I talked to the school, the principal explained the reality of this: the teachers are not allowed to teach the remaining students.  I won't be fair to the kids who go. Yet, somehow, it's fair to leave the other students to color…
Now, this is a legal outing as defined by Indiana statute 20.8-1-3-22. I suspect that the people involved are taking advantage of the vague language.
In theory, I have no problem that the program is offered. I really do not.  But it's interfering with education. I do have a problem with that.
I don't know if my phone calls and expressed concerns helped, but Whisper reports that she and the other three students who stayed at school spent their free time in the computer lab working on math review/enrichment.  I hope this is offered through the remainder of the program.  Unfortunately, I also understand that the other three children either lost their permission slip or didn't receive one at their home and the school made sure they got another copy. That makes the program illegal and I look forward to seeing what the FFRF has to say about that.
This month, after taking July off, I participated in Foodie Pen Pals hosted by Lindsey at the Lean Green Bean.
.PHOTO TO COME.

Foodie Pen Pal – August 2012
My amazing pal treated me to tons (!!) of amazing things.  You'll have to trust me. Although I photographed all the goodies, I failed to plan ahead and the photo was still in the camera when my husband took off for his adventures at the Burning Man festival in the deserts of Nevada.  Unfortunately, I didn't document it all either, so I'm going from memory and labels.
My favorite part of the package was a bag of dates.  I offered some to my kids who did not enjoy them AT ALL.  No worries – more for Sheila.  Also included were jars of salsa and bruchetta that I haven't taken the time to try.  My pal also sent some spicy mango that traveled with the photos of it  because Eric absolutely loves mango.  I've been snacking on spiced almonds and giant white beans.  We all shared the fruit and granola bars. I believe there were other items [and I know I loved everything], but I'm having memory issues due to migraine pain.
When the camera returns, I'll update.
---
Here's a detailed explanation of the program:
On the 5th of the month, you will receive your penpal pairing via email. It will be your responsibility to contact your penpal and get their mailing address and any other information you might need like allergies or dietary restrictions.
You will have until the 15th of the month to put your box of goodies in the mail. On the last day of the month, you will post about the goodies you received from your penpal!
The boxes are to be filled with fun foodie things, local food items or even homemade treats! The spending limit is $15. The box must also include something written. This can be anything from a note explaining what's in the box, to a fun recipe…use your imagination!
You are responsible for figuring out the best way to ship your items depending on their size and how fragile they are. (Don't forget about flat rate boxes!)
Foodie Penpals is open to blog readers as well as bloggers. If you're a reader and you get paired with a blogger, you can choose to write a short guest post for your penpal to post on their blog about what you received. If two readers are paired together, neither needs to worry about writing a post for that month.
Foodie Penpals is open to US, Canadian residents & UK residents. Please note, Canadian Residents will be paired with other Canadians only. We've determined things might get too slow and backed up if we're trying to send foods through customs across the border from US to Canada and vice versa. So, I'm going to keep two separate lists and match US w/ US and Canada w/ Canada!
If you're in the UK, please contact Carol Anne from This Is Rock Salt at rocksalt@thisisrocksalt.com to get involved!
Sign up at The Lean Green Bean
Exhausting week, it was 🙂
WEEK 9, YEAR 1
---
Cleaning means organizing our DVDs!  This was Eric's job and I don't envy him one bit.
---
Alek was supposed to be doing yard work… Instead, this.
---
This picture reminds me of summers in Erie.  I miss sunsets over the water.
---
Not a great picture, but even this one was hard to get.  I cleaned out my sewing room [more pictures of that later] to the point that the girls could have a sleepover on the hide-a-bed.  This is their view.
---
Cleaning out my sewing room [so the new dog can room in], I found some old art projects of the kids.  Jordan made this a couple years ago.  Love it. 
---
Circe joined our family today. She's fitting right in watching "Pretty Little Liars and snuggling with Ravynn on the sofa.
---
Now… she poses.
Back on track. Scheduled and everything 🙂
WEEK 8, YEAR 1
---
Hot, but pretty.  June 30, 2012. 
---
Sunday, Jordan and I went over to Edgewood Country Club for their Walking Man/Fourth of July celebration. He was very patient while I took his picture. Love the hair!
---
Too hot for anything. Really temps nearing 102 with no real rain for days 🙁 Staying inside watching Heroes.
---
STILL too hot. Sitting in front of a fan, feet up, sipping iced tea, and working on upcoming blog posts. Not so much beating the heat, but functioning in spite of it.
---
Our friend Tim has a sick little girl who is facing some special challenges today. We lit a candle for her.
---
Dear Leinenkugel family. I love you.
---
The girls are home!!  And are very happy about it. Almost as happy as mama.
I grew up in an extended family: mother, father, me, two sisters, my father's father, and my mother's sister.  Grandpa lived with my parents before I was born and that didn't change after we girls came along.  My mother's sister had always lived with their mother and, when my grandmother died, my father invited my aunt to live with us.  It wasn't a big house and it was full to the brim with people: four adults, three kids. 
As I grew up there weren't many opportunities for me to be alone.  I shared a room with my two sisters until my dad built a second floor when I was 16 and we each got our own rooms.  My mother didn't work after I was born, so I expected her to be home.  Most of the time she was.  When I was very young, obviously I couldn't stay alone.  When I became older and was old enough to be at home without my mother, my Grandfather was sick and it wasn't advisable for me to be home without her.  My Grandfather passed when I was 13 and in the 8th grade and I was suddenly able to be home 'alone', but alone is hard to come by when you're part of a family of seven. Most likely someone will always be at home with you or will be coming home shortly.
In college I most always had a roommate, but if they were out, I could be found in the lobby watching TV or talking to whoever was around.
When Eric and I got married and there were only two of us to fill our home, it was much easier to be alone and I resisted it.  I'd go to the grocery with him.  We worked together, so we kept the same hours.  After the kids started coming and our two grew to three, then four, then five, and finally six, it was difficult to find time alone. I like it that way.
I like it a lot.
Unfortunately as the kids get older, they have more opportunities to try new things.  Well, the opportunities are good, but the time away from home is difficult.  Alek spent three weeks at the Houston Ballet in a summer intensive program.  That was hard for me and I only stopped fussing when he was only three days shy of coming back.  During that time, Eric's mom invited the girls to come up and spend a week with her.  Now, I never had the opportunity to "spend a week with Grandma."  She lived right across the street, so that would have been silly.  All of my family [mostly] was in town, so we didn't run off visiting.  I just don't get it.  But the kids enjoy it, so we send them.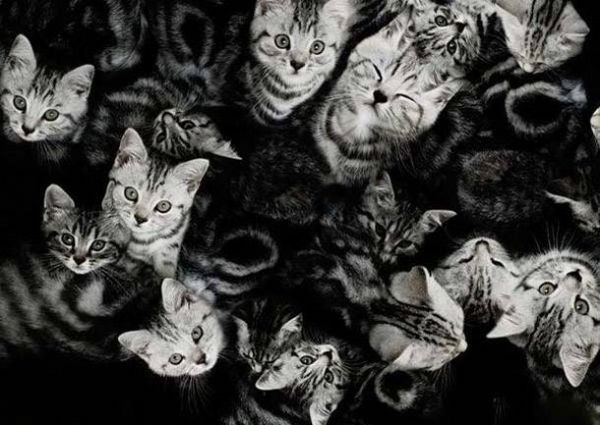 One of my friends at work asked me, while I was experiencing life as the mother of one, how I was feeling about my empty nest.  I disliked it.  My boss overheard and reminded me that in two years, I'd have one heading off to college.  You can imagine the look he got.  But even I had to admit I can see the nervous breakdown coming.  I suggest I start hoarding litter boxes now for when I become the crazy cat lady.
But, other than the boys making a quick trip to Grandma's and maybe Jordan heading to Pittsburgh for a stint in manual labor/babysitting, we're all home for the rest of the season.  I think I'll be okay.
It reminds me though, that Goths are supposed to be morose and sad and resist human interaction.  Not this one.
How exciting to return home after a particularly brutal day at work to find a package from California.  Flat Sapphire [Ravynn's Flat person] had been on a several week trip to Lake Elsinore, California where they spent time with Lauren and Nicholas. She came home with a lot of gifts for the girls, which were incredibly appreciated.  We tried to get photos of them all, but realize we forgot to photograph the CD-R of Sapphire's Travel Journal.  That was a great addition that we look forward to sharing with you.
Included in the packet with the journal were two really cool tshirts with tarantulas and and animal footprints decorating them, two pair of sunnies [Ravynn is modeling them in the photo with Sapphire], a flash drive, frisbee, and a lot of postcards and travel magazines/books.  The girls are really excited to dive into them.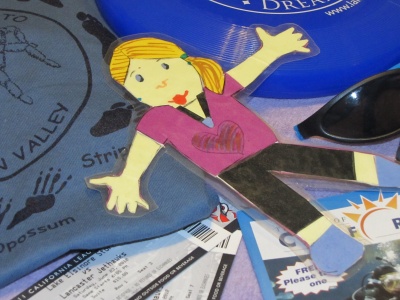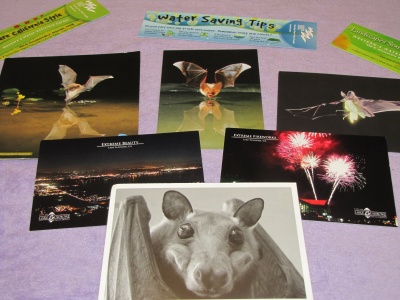 We tried to copy some of the pictures from the journal into this post, but I'm not that adept at working with PDF files.  And I don't want to insert the whole thing as there are pictures of minors who aren't mine.
Suffice it to say that this Flat Sapphire trip was an overwhelming success 🙂