Everything? Really? [part 3]
Acker, Kerry. Everything You Need to Know About The Goth Scene. New York: The Rosen Publishing Group, 2000.
---
Continued from Part 1 and Part 2.
Chapter 4/Gothic Fashion: Fashion is an important aspect of Goth culture.  Just as many other people in the world, Goths use fashion, hairstyle, and makeup to express themselves.  Lady Gaga certainly does and I'm not sure anyone would accuse her of being Goth. 🙂 
While there are some styles that tend to identify someone as Goth, I know many goths who were little other than jeans and black t-shirts.  I'm personally most comfortable in long skirts and t-shirts.  The husband is most comfortable in a complete outfit, styled head to toe, in a manner that will make him stand out.  He's known for it.  Neither Jordan or Alek really embrace the fashion of the culture.  Jordan does wear primarily black tshirts and jeans, but I can't tell you that is a conscious decision or for any reason other than it's what he likes. Alek wears bright colors – basketball shorts and tshirts, or dress shirts and khakis.  Ravynn and Whisper like pretty clothes in any color.  They do like a lot of black, but they're little girls so pink and baby blue show up in their choices a lot.  As far as we're concerned, I believe that whatever in us determines our fashion choices, its' the same thing that draws us to the Goth culture.  Maybe. It's just a theory.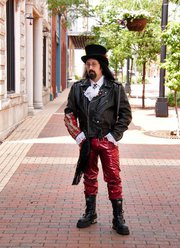 Acker lists several items common to Goth fashion:
Black or dark-colored velvet skirts, dresses, and vests
Doc Martens or combat boots
White poet's shirts
Rubber, leather, or vinyl gear
Corsets
Pagan or Christian jewelry
Buckles, pointy shoes, and ripped fishnets
I see so much more than that, but it's not a bad list.  It's also not bad [although slightly obvious] tha black is the color of choice for goth-minded folks.  You'll notice, though, that Eric isn't afraid of a splash [or more] of color in his outfits.  The author also spends a lot of time discussing the ways that MANY Goths wear their hair or the MANY kids of jewelry MANY of them wear.  Really, some experiment with hairstyles and some wear a lot of jewelry. 
Chapter 5/Gothic Music, Literature, and Film: The main part of the book conclude with lists of popular music, literature, and film.  The book is 12 years old, so none of these are current lists. I suggest you Google up the lists or just ask. 
There is more to be learned from just talking to people than from reading. While the book doesn't offer wrong information, the way some of it is presented is misleading.
Tags: everything you need to know, fashion, hairstyles, jewelry, makeup, movies, musics, what is goth
This entry was posted on Wednesday, July 11th, 2012 at 6:33 am and is filed under Books. You can follow any responses to this entry through the RSS 2.0 feed. You can leave a response, or trackback from your own site.